1977- 1987

Neal kept rather volumous records of things, and all the letters below are from a file he kept of letters from Melvin and photocopies of the letters he wrote to Melvin. From references in the letters one can be fairly certain that this is not the totality of the correspondence, nevertheless, it probably represents a large majority. The letters were transcribed and charts scanned in July & August of 2005 by Bradley Wogsland.
---
1108 - 7 Ave NE
Rochester, Minn.
Mar 22, 1977
Dear Mr. Wogsland,

To introduce myself I am of the Vaagsland line spelling my name Voxland but these and other spellings all derive from the same quarter section (more or less) located in Tördal, Drangedal Norway.

Two years ago when in Houston Texas I noted a name spelled as yours is so as usual I telephoned. The party said he had not worked on genealogy but he said you had or were.

Already I've been in contact with several of your line - the Walter Wogslands, a John at Menominee Falls and the Rev. Wogsland in Iowa. What I've been seeking is a possible trace of my own grandfathers family members. My question to you have you in your studies run into any Wogslands, Woxlands or Voxlands that were not members of your own family clan?

Should you in time be interested I have information relative to the forbears of your Wogslands who came to your part of Wis. My ancestry and yours come from brothers born about 1705 and I can + have traced the family further back than that. A Barbara Nottolfson Taylor lives here in Rochester comes of our same line. As does a group named Woxland in Fillmore and Houston counties Minnesota.

Any information you have will be appreciated.

Melvin Voxland

I am a retired school teacher + principal who luckily at 75 is still going pretty strong.
---
724 W. Ring Factory Road
Bel Air, MD 21014
25 April 1977
Dear Mr. Voxland,

It was a pleasant surprise to receive your letter of 22 March. I am very interested in the geneology of the Vaagsland (Voxland, Woxland, Wogsland, etc.) family. Although interested for a long time, I had never made a concerted effort to trace the lineage (I have a folder full of miscellaneous notes dating back to 1964 or earlier). Just to show you how little I have assembled, I am inclosing a rough geneology starting with Ole (Olson) Wogsland and his brothers, Eric and Halvor, who emigrated from Norway somewhere around the 1860's. As you see, I know very little about Halvor, and about as much concerning my Great-Aunt Mary (Smith?). My data is extremely incomplete concerning my own generation and our descendants. Fortunately, with a little ambition and some letter-writing, I can do something about this.

I am 49 years old, married (Mary Dell "Fortune" Wogsland), and have 3 children...Dell graduated from Western Maryland College in 1976, James is a Senior at WMC, and Nancy is a Freshman at East Carolina University. I am a Mechanical Engineer at the U.S. Army Material Systems Analysis Activity at the Aberdeen Proving Ground. I graduated from the University of Wisconsin in 1949. My father and mother (Obert and Alice) reside at 1124 Charles Street, Fort Atkinson, WI 53538. Sylvia also is in Fort Atkinson, Lyle is near Madison (Sun Prairie mailing address, I believe), and Wayne is in Houston, TX (as you know). My parents both reach age 75 during 1977.

My Uncle Walter, who now lives in Waupaca, WI, and operates a service station, probably knows more about the WOGSLAND genealogy than anyone else. I plan to send him a copy of the inclosure and ask him to fill in some blanks for me.

In response to your question, I have not run into any Voxlands or Woxlands during my travels. I do search telephone directories, but Have not visited places like the National Archives or the library of the Church of the Latter Day Saints in Salt Lake City (I understand that library has information catalogued by name and the data includes records from all over Europe as well as North America). I only started looking for VOXLAND and WOXLAND about a year ago. There were none in the current directories as of April 1976 for Washington DC, Baltimore (Metropolitan area), Northern Virginia, Richmond VA area, Norfolk VA, Philadelphia, Boston, Miami, Detroit, Cleveland, Los Angeles, or San Francisco. I have run into two WOGSLAND listings that I did not follow up:

June 1966 Angela Wogsland, 872 42nd St., Oakland, California 415/652-3738

Chicago Suburban North} July 1975 Ward A. Wogsland, 732 Kirkwood, Winthrop Harbor, Ill. 60096 312/746-3906

The first listing did not appear in a more recent directory. In June 1966, I also observed the name WOGSBERG in a San Mateo, California, directory. Do you think this name could be connected to our family?

I would appreciate any information you can give me concerning our mutual ancestry ....the more, the better. I'm also interested in the WOXLAND's. I will get active and assemble more information from my parents and uncle. I will watch for the four family names when traveling and try to visit the National Archives when I get a chance. What format do you use for charting a geneology? How much data do you put on it? I guess that my real question is, "how do you file/record your geneological data?" I can send some more data on the WOGSLAND's, if you want it.

Your "cousin",
Neal C. Wogsland
When Neal did finally make a "concerted effort", he managed to fill the better part of a filing cabinet with a little over decade's worth of work. This website is based a great deal on that work.
---
Rochester, Minnesota
August 4, 1977
Dear Mr. Wogsland,

Thanks much for your interesting reply to my earlier letter. Since receiving your response I've been a bit occupied on my genealogical pursuits plus two appearances at reunions - one a Voxland-Rasmusson group at Glenwood, Minnesota among descendents of my grandfather Halvor Larsson (Voxland) all of whom took the surname Voxland; plus descendents of his brother Rasmus Larsson only half or less of whose descendents took the Voxland name; plus again descendents of a sister Asber or Asper who married an Olav Peterson whose descendents of course used Peterson altho the lore is that that wasn't really his name - whatever it was in really I'm not knowledgeable.

I much appreciated your Ole (Olson) Wogsland descendent chart. I believe you have at least two more children to go - one Steiner and an Aaste Bergen wife of Knud G Bergen. I've had correspondence with a Bergen who gave me the information that said Aaste was of your group.

I have almost concluded that there must not have been any unknown brothers of my grandfather Halvor that came to this country. The two known other than the siblings mentioned already came to Illinois and I'm mildly pursuing them. I have discovered about four lines of V, W's who came to this country. To your area came two lines one (1) using the name Nottolfson who has a descendent Barbara Nottolfson Taylor living here in Rochester and also interested in genealogy, and (2) your Olav or Ole Wogsland group. Then (3) there is a Woxland group at Rushford Minnesota (before whom I appeared) and (4) then there is the group of 4 brothers and a sister that were descendents of Lars Olson Vaagsland that came to Illinois and to Minnesota.

My efforts started and concentrated on looking for the ancestors of my grandparents all of whom were born between 1832 - 1848 and came to the U.S. single and married here. Three were from Sogndahl. In this respect thanks to my father who had purchased a book in Drangedal + Tördal and figured out our lineage back to about 1500. We had in-commom (note I inserted in) up to about 1750 or 1800.

I'm endeavering to not have only the pedigree names but whereever possible add some details if regarding those that are written up in the book. I tried also to locate the parantage of the women that the ancestor married and did also locate a number of their background. We all stem from one Hallvard Graatop (a Vraalstad) who lived in about 1400 - 1438) at the latter date he organized an army of peasants and went against Eric of Pomerania King of Denmark. He lost in the effort but his cause won out as Eric was deposed the following year. You will find his name in the 1968 Encyclopedia Brittanica (Bicentennial Edition) on page 649 in the lower right hand paragraph page 649.

I am attempting to writup as briefly as possible my findings because printing is expensive.

I am enclosing some material from the Iola Herald - you may have it already.

During the summer I am busy with gardening and outdoor activity maybe I will do better when winter comes. I have ceased looking backwards for more ancestors but will try to assemble about three or four of my grandparents descendents - but even that will be a task as they are numerous and scattered. I am hoping to have one each cousin in my generation be responsible for his spouse and descendents.

Thanks for your interesting letter.

Your note regarding an Angela Wogsland Oakland and a Ward A. Wogsland if not of your group could be of a North Dakota clan which is of families that lived on my great grandfathers place after he lost it. I do not believe the wogsberg name is worth pursuing nor is Vogland. Which I've tried - there is a Vogland place in another area of Norway. The distinguish syllable seems to be Vox Wox Wogs Vogs or perhaps if in this country Vaags - each with land. All of these originate from perhaps less than 32 acres of roughly tillable land in Tördal Telemark.

We each must have shared some of the same blood as I too have been a Telephone book Vox, Wox Vogs Wogs name hunter - the North Dakota group I believe some of them use Vogsland.

Our name derives from the old Norwegian word Vaag which means a small bog hence Vaagsland - the land around the little bog of the lake down front of the gaard (farm) thru which runs a river. The name of the lake I'm not certain if its mean Bjarvan and Bjar river. I think translated either as clear or birch most likely the first.

Melvin V.
1108 - 7 Ave NE
Rochester, Minn
Read Hallvard Graatop's page.
Melvin also attached several photocopies to this letter. The first is the list of ancestors his father compiled which you see below. The second was a excerpt in the Iola Herald from Malcolm Rosholt's book "From the Indian Land".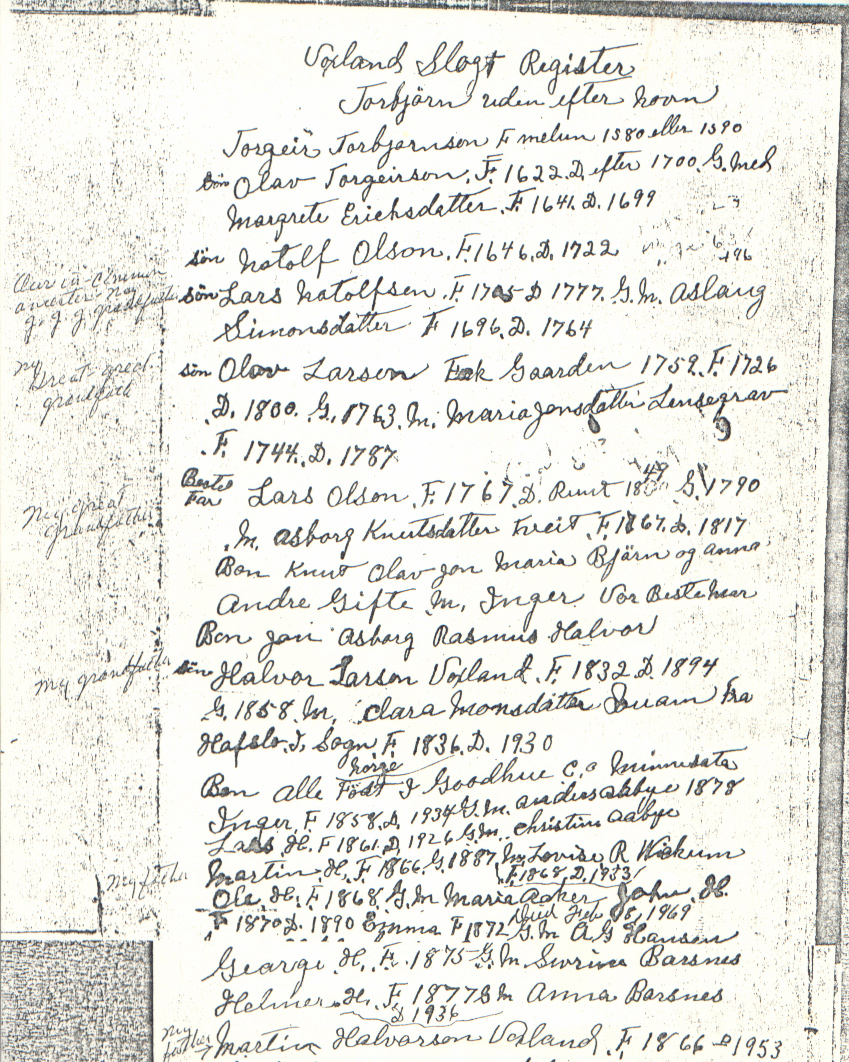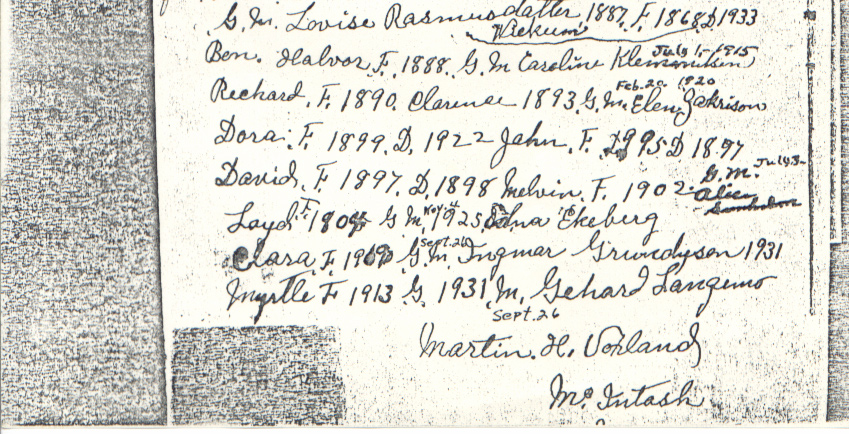 ---
724 W. Ring Factory Rd.
Bel Air, Md. 21014
14 October 1977
Dear "Cousin" Melvin,

Time sure flies! I've been meaning to respond quickly to your letter of August 4th .... and it took over 2 months.

Thank you very much for your very informative letter and for the inclosures. You're getting me more interested all the time. I must have a hundred questions; also, I've borrowed several books from the local library on the subject of genealogy (which I now spell correctly).

Do you know where our branches separated? It looks very feasible to guess that your great-grandfather's second son, Olav Larson, may have been the father of Ole Olson Wogsland, Erik Olson Wogsland, Halvor Olson Wogsland, etc. Is this correct? Also, where does the Nottolfson branch tie-in to your father's list of the Voxland Slogt Register?

I've written to my parents to get more names and addresses for follow-up on the younger generations. However, I didn't write to my uncle, Walter Wogsland, because he had a stroke (I believe) last spring and has been recuperating. He has given up the gas station in Waupaca and they have moved back to Iola (in September). I just wrote to him on the genealogy subject this week.

You have sure been traveling, with all those family reunions. Also, I hear you recently visited Raymond Wogsland in Seattle. Thanks for asking him to write to me. He sent me a chart of the descendents of Andrew and Florence Wogsland. I am inclosing a copy, just in case he hasn't given you the same information. This extended my WOGSLAND GENEALOGY chart considerably. I have revised my chart (copy inclosed) to add recent information recieved from Raymond, you, and my parents. This temporary chart does not show the youngest generation (or 2). There still are a lot of gaps.

Your "Cousin",
Neal Wogsland
Here's a link to the Neal Wogsland & Raymond Wogsland correspondence.
---
The following letter from Melvin was undated, but Neal stamped it REC'D 7 NOV 1977 so it probably wasn't written too far before then.

1108 - 7 Ave NE
Rochester, Minnesota
Dear Cousin Neal:

Thank you for your letter and enclosures which I received about three weeks ago. Raymond Wogsland of Seattle also wrote that he had communicated with you. Incidentally we enjoyed the hospitality of their home plus a fine Salmon dinner. Matrimony captured Raymond late apparently at about 57 when he married a widow with three children. Luella was a very lively hostess and both were easy to get acquainted with - and enjoy.

In your letter you had on the genealogy after the first Ole Olson scratched out the Olson and written in Larson with a question mark (?). You also made the question - Do you know where the branches separated.

Yes - having now made contacts with descendents of each of the known branches I can answer that question. We are all descendents of one Lars Nottolfson and his wife Aslaug Simonsdatter. He lived 1703 - 1777 among his immediate descendents are the brothers Nottolf Larson (your ancestor and ancestor of the Nottolfsons and the Woxlands at Rushford) and Olav Larsson (1726 - 1800) and wife Marie Jonsdotter Lensegrav. This couple are ancestors of my clan which consisted of three who came to Minnesota and two who settled and lived in the Fox River Country in Illinois but present whereabouts unknown. These two were Marie Larsdotter who married Jorgen Person Tveit (George Peterson in Illinois in 1850) and John Larsson.

Now for a brief Family Tree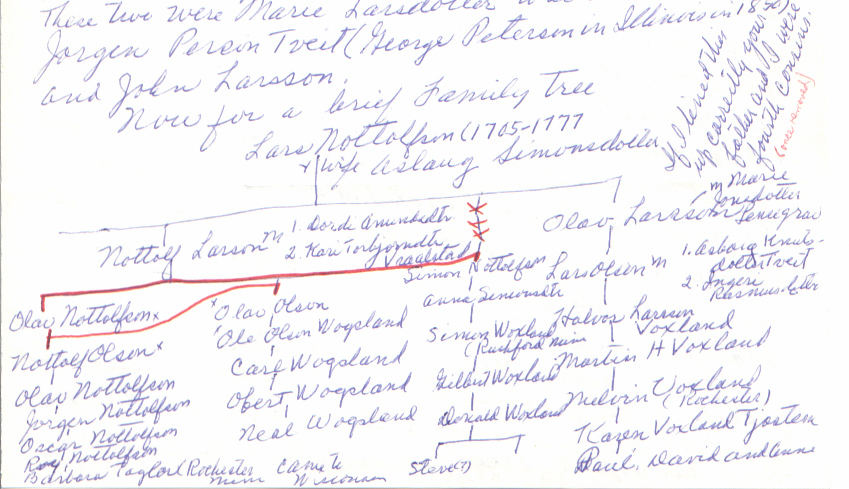 I do have at least four of five generations of Vaagslands back of our common or ancestor in common Lars Nottolfson Vaagsland and ancestors farther back particularly in the Vraalstad line of which we are both descendents including the most noteworthy one Hallvard Graatop who is listed in a writeup of History of Norway in I believe the 1969 addition of the Encyclopedia Brittanic as having organized forces leading an insurrection or revolt against Eric of Pomerania then King of Denmark and ruler of Norway. Hallvard lost but the Danes themselves got rid of Eric and Norway became a semi part of Sweden at least with a jointly shared King.
I am hoping to get the Voxland Family History written up published or printed or memeograph this winter or spring. In it will also appear the translations of the Vaagsland farm history and owners which is printed in a Drangedal book which my father acquired back in 1935.
Best regards
Melvin
---
1108 - 7ave. NE
Rochester, Minnesota
Nov. 8, 1978
Dear Neal,

Already nearly a year has gone by since that very "apt" Thanksgiving card came from Maryland. I've not been able to find one as uniquely appropriate.

Of and on I've been working on the family tree. My search for two of my grandfathers siblings who came early and settled in Illinois has not been fruitful - probably in part because one seems to have used the name Larson and the other a sister married a man named Peterson. I even had a letter in the Sons of Norway "Do you know them" column.

Just this week I had a letter from Ray Wogsland of Seattle whom I believe I mentioned before. He is of your clan of a group that settled early in the area of Hannaford and Walum North Dakota. He was a bachelor who seems to have have waited until near 70 before marrying. I shall thermofact his letter and send it on to you.

I have successfully corraled all of the descendents of my grandfather - except two grandchildren and their descendents. However I shall have them too within a few weeks. I did receive a couple or three responses to my Sons of Norway letter - one significant and interesting. It was from a Robert Hanson of Wisconsin Rapids who also is interested in genealogy and enclosed some materials he had received from Drangedal + Tordal Norway - and sure enough we are all of the ancient grandfather-in-common that was born in 1700. His line and yours descends from one of that man's sons - and our line from the second son - so he is as least one generation closer to you than me. Also he enclosed some other significant information that appends three or four additional generations back in to his of the in-common grandfathers wife who was a Bergane - a group that also settled in the Iola Rosholt area that married a sister of one of your Olav O. Wogslands.

I have good + extensive ancient lineage information on the Vaagsland, Voxland, Wogsland, Woxland, Vogslands in Tordal that will appear in my writeup - whenevere that gets completed. I have done nothing during the summer but am getting started again now. A descendent of my grandfathers brother is assembling data on the family - however she has such big + expensive ideas that I would like to proceed independently - and get this off at the least cost.

Your Wisconsin group is a much larger group as they came over with families. My 4 grandparents came over single a few years later + met their mates here, and first had children in 1859 + 1865 respectively.

I may have mentioned before the Notolfsons of Scandinavia - who are also of your line or very close. One Barbara Taylor (a Notolfson) lives here. Her husband Curtis Taylor is also from that area - We have become good friends. He is Park + Recreation supervisor here and is a mighty competent person listed in Who's Who. Barbara too is interested in genealogy so we get together to compare notes. Her mother is German, yet she (Barbara Taylor) taught herself Norwegian and handled the situation adequately + competently when she + Curtis visited Tördal last summer.

This is about all I have as of now. Eventually I will have information on the Olav O. Wogsland which is Identical to mine but one of them had a wife who was a Vraalstad and judging by the pages devoted to Vraalstads they were a predominant group of which no doubt every recent family of Tordal are descendents. The history + genealogy of the Vraalstads leads back to about 1300.

Sincerely

Melvin Voxland
Here is a link to the Neal Wogsland/Barbara Taylor Correspondence.
Attached to this letter from Melvin was the following letter Ray Wogsland had written to Melvin:
4739 36th ave. S.W.
Seattle, Wa.Oct.29, 1978
Dear Cousins;

At last I have some information that I believe will be of interest to you. For over a year I have been trying to locate the descendents of my aunt Marie, and about a month ago we had a phone call from Yakima, Wa. from a William Guy Smith, a grandson of aunt Marie, So we made an appointment to meet them, and two weeks ago we drove over to Yakima, (about 150 miles) and after getting a room and a bite of lunch, we called the Smiths and they gave us directions as to find their house, and we drove over and found them without any trouble.

They are of a younger generation than we in their early thirties, and they were just moving in to this house and were busy stowing things away but they gave us a warm welcome, and took the time to play a tape recording of his grandmother Marie's talking to his father and others about when they first came out west, and my dad's name was mentioned. They had an old plush album of family pictures, they only ones that I could recognize were aunt Emma and her husband, Walter Holmes.

After visiting the Smiths, we went to see some old friends that I knew since 1941, when I was working for a contractor in Yakima.

The next day we drove southwest, across the Yakima Indian reservation and down to Columbia river. A beautiful day, and the trees and bushes all turning color, lots of sumac that is bright red this time of the year.

On the Columbia river we stopped for about an hour at a museum, Maryhill, built by a man named Sam Hill in the early 1920s and dedicated by Queen Marie of Romania. Lots of indian artifacts, statuary, paintings, it would be well worth spending a day looking it all over, but we drove down the river to Stevenson where my nephew Bobby Leick lives, but he was not at home, we could not expect them to be at home on such a beautiful day, so we drove down river to highway I-5 and then back towards home, stayed overnight at Chehalis and visited some friends, and next day stopped at Oakville to say hello to my brother in law, Lee Hand and my nephew David, and then back to Seattle.

This week LouElla and I went over to Lake Bay to see if we could locate aunt Emma's grave. Down to Tacoma and then west across the Narrows bridge and then south and west 25 or 30 miles to Lake Bay, practically a deserted village. I was there over night in 1941 and didn't remember anything about the place, so I went to the post office and asked the postmistress if she could tell me who was the oldest inhabitant, she said the ONLY old inhabitant was the rural mail carrier, and he's just left as I came in the door. However, she gave us directions to the cemetary, about three miles down the road, which we found easily. The cemetary was very run down, not at all like the cemetaries in North Dakota, but as luck would have it LouElla found the Holmes grave about 100 feet inside the gate. Holmes Emma 1868-1941 Walter 1867-1948 As that was about all we could do, we started back towards home, the road winding in and out among the trees, sometimes right along the shore for a mile or so, little sailboats out there and people fishing, it was a welcome change from driving on freeways, but we got back here about 4.30, when people are all coming home from work and traffic all snarled up. it is a different world from Lake Bay, only about 70 miles away, but about 70 times as peaceful, if you know what I mean.

You know your brother was here some months ago, he gave us a phone call, but we didn't get to see him.

I have been wondering if you have got your book published, and if so, we would like to have a copy, and maybe several copies to give to other family members, let me know the price and I will send the money right away.

We had a cold rainy summer here, but October has been real nice, less than an inch of rain all month, and lots of sunny days. Usually foggy in the forenoons and sunny afternoons. People are still mowing lawns, I cut ours Friday for the last time this year, I hope.

Lou and I are thankfully enjoying very good health, I will be 74 on Nov. 13, don't really feel that old, but I can't do as much work as I used to, and my memory is not so good, I remember things that happened 60 years ago, but forget where I put the pliers or screwdriver that I used 2 minutes ago, do you recognize the symtom?

Hoping you folks are all O.K. and write us one of these days.

Sincerely,

Ray + LouElla
Here's Ray's chart of the information from William Guy Smith. The name cut off at the top is Ole Olson Wogsland.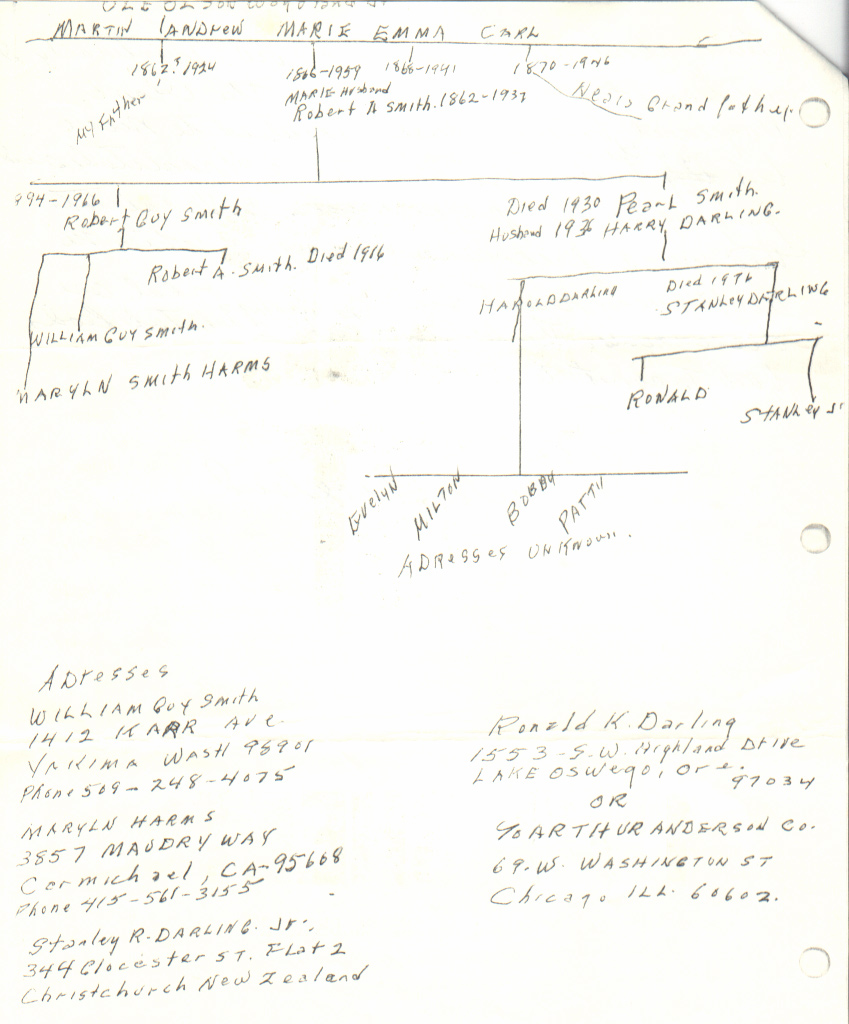 ---
724 West Ring Factory Road
Bel Air, MD 21014
16 November - 11 December 1978
Dear Cousin Melvin,

Time sure does fly! I just received your letter of 8 Nov 78, on the 15th (our postal service it terrific), and so decided to respond at once to let you know what I have been doing. I started writing a couple of times but never finished the letter. I have reviewed some census records at the National Archives in Washington, DC. In addition, I have received some information that my parents dug up during a visit with my uncle Walter in Iola, Wis.

However, first I'll tell a few eventful things concerning my family here in Maryland. I've been trying to keep up with the necessary lawnmowing, maintenance around the house, a small garden, swimming pool maintenance, and construction of a retaining wall while being involved with family activities. Mary Dell had surgery in July and is recovering quite well. She also has accepted the job of Chariman of the local Christian Women's Club, which keeps her very busy (the average attendance at their monthly luncheons is close to 300). Dell Marie is busy at her job as investigator for the US Civil Service Commission. James completed college in December (graduating officially in May) and is employed as an adjustor for the Liberty Mutual Insurance Company. He married Sally Marshall in May. Dell was the soloist at their wedding and has been a bridesmaid at 5 others during the summer. Nancy is a Junior at East Carolina University (Greenville, NC) working toward a bachelor of fine arts degree in commercial art. She was our star housekeeper last summer while Mary Dell was recuperating.

Thank you very much for your informative letter of last November which served to show the tie between our branches of the Vaagsland lineage. It makes the search exciting when you see results that tie so many branches together. Inclosure 1 shows a chart that I made to show this data and to include other names that I know of in your father's (my grandfather's) generation. Of course, there are many names missing yet ...some which you probably know in my ancestry an many that you will show in your notes (book) when you complete it.

Also, thanks to you, Raymond Wogsland and I have been corresponding for the past year. As indicated in your letter, he has located the descendents of my grandfather's sister, Marie Wogsland Smith.

One of the descendents of Erik Wogsland is working to assemble a listing of his branch.

During the past year, I have been searching the Wisconsin census records (1850 - 1900) for the descendents of Ole Olson Wogsland (1800 - 1866) and Maria Stenersdatter Wrolsted (1799 - 1864). Ole and Maria immigrated to the US in or about 1850 and brought their 6 surviving children with them. Ole, Jr., Stener, and perhaps Aasta may have already been married, but I do not have that information as yet. I have not been able to trace Anne, the youngest daughter. The names of descendents of Ole and Maria that I have found in the census records are shown in Inclosure 2. Again, this is incomplete because I have not exhausted all possibilities (such as locating Anne and locating Aaste in 1860). Also, some corrections will result as more records are checked. The list shows many errors in names, ages, spelling, and even sex. Also, names were Americanized, last names changed, etc. After checking the family Bible, it is evident that Andrew W., age 4 in 1860, and Anne W., age 11 in 1870, both refer to Anne O. Wogsland (4 Apr 1857 - 28 Dec 1876). Other notes and questions can be seen on Inclosure 2.

For a long time, I could not find any census references to Aasta & Knut Bergen. However, the Iola Herald article you sent me on the North New Hope Church stated that their children had been born in Iola twp. Therefore, I decided to search the rolls for first names (instead of Bergen). I found tem then, their names appearing close to those of Halvor and Steiner Wogsland indicating that they had neighboring farms. They were listed under the name Gunderson.

This is the first ½ of what I intended to write ...I'll write more soon! Have you checked the US Census records for Illinois relatives? ...Anxious to see your writings/book. Cousin, Neal W.
Here is the text and translation of the Wogsland family Bible to which Neal refers.
Herefollows "Inclosure 1":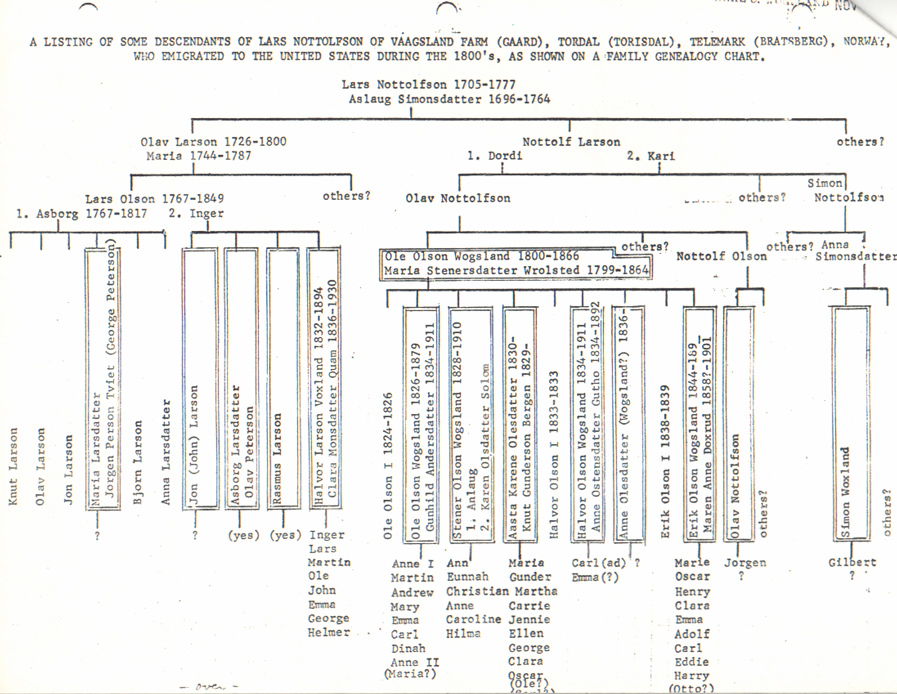 This short handwritten note was also included with Neal's typed letter.
11 December 1978
Melvin,

I know you can add many names and data to this chart. When they are added, it probably will be impossible to keep it on a single page.

This chart is very incomplete but it does help to show the general Vaagsland relationships!

Thanks for the information you have sent me!

Neal
Herefollows "Inclosure 2":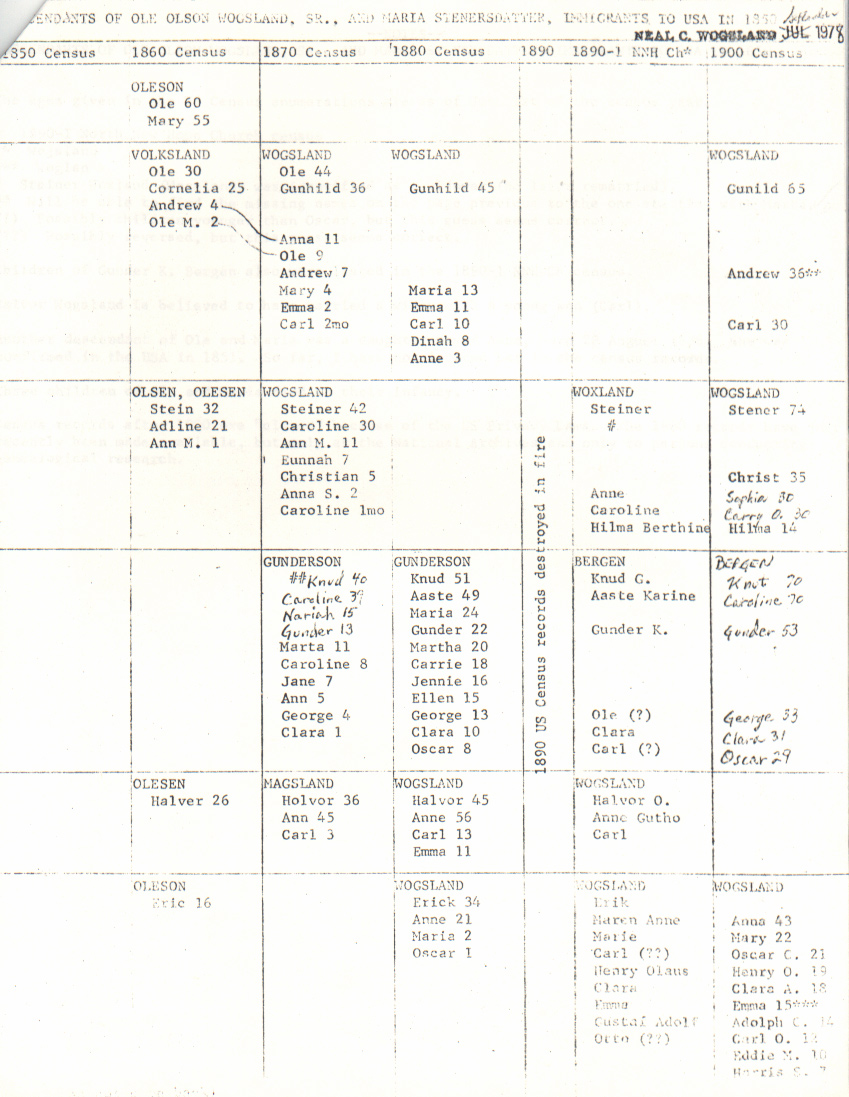 Also included was this page of Neal's references pertaining to the above chart.

--NOTES--

DESCENDANTS OF OLE OLSON WOGSLAND, SR., AND MARIA STENERSDATTER, IMMIGRANTS TO USA IN1850

The ages given in the US Census enumerations are as of June 1st of the census year.

* 1890-1 North New Hope Church census
** Wojsland
*** Wogslan
# Steiner Woxland (Wogsland) was identified as a widower (he later remarried).
## Will be able to find the missing names on the page previous to the one starting with Marta. OK.
(?) Possibly children younger than Oscar, but this guess seems correct.
(??) Possibly reversed, but this guess seems correct.

Children of Gunder K. Bergen also were listed in the 1890-1 NNH Ch census.

Halvor Wogsland is believed to have married a widow with a young son (Carl).

Anothe descendeant of Ole and Maria was a daughter named Anne, born 28 August 1836. She was confirmed in the USA in 1851. So far, I have not located her in the census records.

Three children of Ole and Maria died in their infancy.

Census records after 1900 are "closed" because of US Privacy Laws. The 1900 records have just recently been made available, but only at the National Archives and only to persons conducting genealogical research.
---
Bel Air, MD.
18 December 1979
Dear Cousins,

I really have not forgotten you! I think of you often and my "TO BE DONE THIS MONTH" list has been reminding me to write for many months. I have done very little corresponding during the last 9 months or so.

Mary Dell, Dell Marie (our eldest daughter), and I visited my folks at Fort Atkinson, Wisconsin in mid-October. Our neice, Lori Brown, married Steve Weisman on October 20th (Saturday). We htne drove right home after the reception so we could go to work again on Monday.

Walter and Vivian Wogsland (from Iola) were at the wedding and reception, so we got to talk to them for a while. My brother Lyle, Barbara, and his son Carl also were there. Dad's knees are bad and he has to use crutches, a walker, or his new wheel chair to get around. Therefore, he has sold his car and turned in his driver's license also. Mother had a fall in early September and apparently cracked or broke a bone, but refused to go to the hospital for x-rays. Thus, she also was using the walker or wheel chair. My sister Sylvia stops by to do the laundry and other chores nearly every day (we were able to relieve her of this for one week). Mother now says she is getting around much better. Uncle Walter looks good ... he uses a cane and goes wherever he wants to.

I've been very busy at work and spent the last week of September in El Paso, Texas. We (a team of engineers from Aberdeen Proving Ground) visited Army units at Fort Bliss to discuss problems they have with equipment. Our next visit to Fort Lewis probably will be in 1981 (I'll see you then!). Daughter Dell, however, is the traveler and had spent a month in Arizona, 2 weeks in West Virginia, 2 weeks in northern Pennsylvania, 3 weeks (3 trips) in Mississippi .... and a vacation in Miami & Key West. Son Jim and Sally moved into a new home in May in the Baltimore suburb s (Perry Hall). They are just 20-30 minutes from Bel Air. Their son Bradley W. was born in mid-August ... Mary Dell and I are grandparents!

I have an address for Walter Wogsland (Oscar's son) that I got from my uncle Walter .... or at least I had it but cannot find it right now. -OK- He lives on Grove Street in Burlington, Vermont 05401. One day last summer, Cousin Walter saw Uncle Walter on TV ....playing his violin in a program at the Wisconsin state fair. Then Cousin Walter wrote to uncle Walter and they have been corresponding since then. Are you thoroughly confused? (They both are your first cousins.)

Inclosed is a copy of a recent newspaper item from Iola or Stevens Point paper.

Merry Christmas!

Neal
Here's a link to the Neal Wogsland/Walter Wogsland Correspondence.
---
11 February 1980
Dear Cousins Melvin and Alice,

Another year has passed ... so quickly! I hope this letter finds both of you in good health. It's a bit late, but I wish you a happy and prosperous new year. Mary Dell and I are doing fine; however, she is still having trouble with her neck and back after our car was demolished by a truck last August. Our oldest daughter, Dell Marie, is living with us and working as a government investigator. Jim is an insurance investigator. He and Sally have a son, Bradley, who was born last August. Nancy will receive a Bachelor of Fine Arts degree from East Carolina University in May (Commercial Art).

I have not done much with genealogy during the past year. Most of what I've done involved my mother's family (Anderson, Nelson, Isaacson, Engelbretson, etc.) and my wife's family, which may date back to Revolutionary War days. I have made some contacts with descendents of Ole and Maria Olson Wogsland also. Do you have an address for Robert Hanson (Wisconsin Rapids, I believe), who you mentioned had written to you some time back. I would like to correspond with him.

Mary Dell, Dell Marie, and I visited my folks (Obert and Alice Wogsland, 1124 Charles St., Fort Atkinson, Wisconsin 53538) last October. Dad's knees are bad and he has to use crutches, a walker, or his new wheel chair to get around. It has gotten so bad that he sold his car and gave up his driver's license. Mother had a fall in early September and apparently cracked or broke a bone, but refused to go to the hospital for x-rays. Thus, she also was using the wheel chair ar a walker while we were there (she is getting around O.K. now). We stayed with them so that my sister Sylvia (mrs. James Brown) would be free to make preparations for my neice's wedding. On Oct. 20th, Lori Brown married Steve Weisman and they now live near Jefferson, Wisconsin.

Walter and Vivian Wogsland (Iola) were at the wedding also. Walter is doing quite well, recovering from a stroke. He has to use a cane, but is well enough that he was able to participate in a "fiddler's contest" at the Wisconsin State Fair last summer.

My uncle Myron, brother of Obert and Walter, died suddenly about a year ago. He was living in Iola at that time.

How is your book progressing? I am anxious to see it and would like to purchase a copy ... or borrow one so I can make a "xeroxed" copy.

Have you ever searched the US Census records for the Illinois descendents of your grandfather? If not, I might be able to give it a try the next time I go to the National Archives in Washington, D.C. However I should have more information than I presently know. You have told me the following:

- MARIA LARSDATTER -
(1) Born between 1790 and 1817, probably about 1800, the fourth child of six of Lars Olson and Asborg Knutsdatter Tviet in Norway ... Do you know the date, or even the year?
(2) Emmigrated to USA in 1850 or earlier ... Do you know when? Port of Arrival? Ship name?
(3) Married George Peterson (Jorgen Person Tviet) in Illinois in 1850 ... What church? Location? Pastor? Before or after June 1, 1850?
(4) They settled in Fox River Valley ... Any indication of whereabouts? What county or town or city? Farmer or in a city?
(5) If no other information, I will first try area in LaSalle County around Norway, Stavanger, and Serena. I also have a book that tells about some of the early Norwegian churches in that area; that would suggest specific locations to search.

- JOHN (JON) LARSSON (LARSON) -
(1) Brother or Half-Brother (??) of Maria ... either a few years older (brother) or up to 25 years younger (half-brother) ... Do you know? Birth date?
(2) Did he arrive in the USA at same time Maria did?

Greetings, again!
Your cousin,

Neal
---
Melvin typed the following letter and, as he admits in the first paragraph, is not much of a typist. Ergo a departure was taken from the usual policy and some editting was done to this rather difficult to read text. To see firsthand why this was done, have a look at the first page of the original.
1108 7th Ave. N.E.
Rochester, Minn
Feb 22, 1980
Dear Neal,

It was a pleasure to receive your letter following the year lapse in our pleasurable correspondence. If you will put up with my typing skills this will be a reward from Minnesota. To apologise for my lack of correctness in spelling and spacing I merely say that after a 55 year lapse my fingers don't remember how to spell any more than my thumb remembers to space. After a few lessons in 1925 I did manage when at the Univ. of California for a summer session to acceptably type my own themes. During the forty-five year interval when I had the advantage of a secretary. Frankly I have been practicing writing the tentative drafts of the family tree to bring it up to a level that competent typists could take over. I am getting close to that point now. I am not surrendering tho I was 78 last month.

In my genealogical efforts I started with my two sets of grandparents first searching backwards and then forward to corral all the descendents. I think I have done well in both directions. Luckily I ran into sources that enabled me to get more ancestral generations than my grandparents have descendent generations. The latter being now about nine. I am no longer going to gather more of the descendents as my wife joins me in thinking that before I run out of time and memory I had better get into black and white what I have collected. I shall be pleased to send you a copy of the Voxland Vaagsland tree when completed. There are several generations of Vaagslands that I have not sent you yet and there is also four or five generations backward on the wife of a Vaagsland that was born in 1705 that will add some interest. That in-common ( I must be careful not to down-grade our ancestors by identifying them as "common") ancestor couple is Lars Nottolfson and his wife Aslaug Simonsdotter Bergane. He was born in 1705 and he is the last in-common ancestor as his two sons Nottolf and Olav respectively are ancestors to your branch and mine.

I do not know if I mentioned it previously but we are both descendents of a Halvard Grautopp who is an antecedent of the Wraalstad family of which you are a closer descendent than I. Some have accorded him as being one of the Smaakonger (Little kings) reigning over smaller areas. He is particularly credited with raising a small contingent or army to fight against the Duke of Pomerania and Denmark. In 1938 the people of Tordal and Drangedal raised a Statue in his honor on the 500th anniversary of his exploits. The statue stands on the Wraalstad gaard about two miles from the Vaagsland farm.

Our in-common ancestor Lars is also shared by Robert Hanson of Wisconsin Falls and also Barbara Taylor of Rochester. You and Barbara are about two generations more closely related than I am to either of you. To a genealogist that's negligible. The Taylors are fine people and we have a lot of fun making exchanges of information about ancestors. (We do not give up our titles to same). I shall have to call Barbara to get Hanson's address.

I am very pleased to send you a letter that I received last winter from a Wogsland of your line. I had previously met his father, Melvin Wogsland od Lengby, Minn. who died this past year.

As you are aware I am confining my tree those in our direct line except I will have some information on your family as I have noticed our family members have much interest in that branch too. The Rushford, Minn. Woxlands are also one generation or two closer to your clan than ours and I have been able to supply information to them. The blood line comes through the daughter of one named Simonwho I think was a son of the Nottolf who was a son of Lars Nottolfson. Did I ever send you a copy of the pages on Vaagsland that are a part of my father's book "Drangedal Med Tordal" by Olav Sannes? It is written in Norwegian but with knowing a few words like fodt (f) born and dod (d) died plus a few more one can make one's way thru. There will be a translation in my Tree book.

I very much appreciate your offer to go to the U. S. Census to search for Jon Larsson and Marie and Jorgen Person Tveit (George Peterson in America). I have already had the correct Census tapes and used them at our Public Library. I found the families in Adams Township and Freedom Township in LaSalle County in 1850. They are not in the 1860 Census of these townships and we do not know where they went with large families. I may write the Mormons to see if they may have been among those who joined that church in that period. Interestingly I knew earlier that Jon Larsson at age 21 married his Uncle's widow an Anne Tarjesdotter age 46. They left Tordal to Bamble, Norway and in 1845 Jon took passage to the United States on a ship called Sultan X. On the passanger rosterhis name precedes one Sara Eeg. In the Jon Larson Census family group his name precedes a Sara Larson followed with the names of five children. The original brides name is missing so I am ordering out another tape from Salt Lake City.

I shall have to get another letter off to the Seattle Wogsland as he was very much interested in the family Saga. He showed us a pleasant time when we were invited to his house for a Salmon Dinner on my convention trip to Seattle.

I was much interested in the materials that you have sent me. I turned some of it over to Barbara and she was thrilled as she was seeking that information.

Greetings to your family. My Alice celebrated her 75th on Valentine's Day. We appropriately abserved it with our son and daughter and our daughter's children here on last Sunday along with Alice's two nieces, my sister and two of my nieces and their husbands plus my brother's granddaughter who works here for IBM at a dinner party at the Kahler Hotel last Sunday. I was able to keep the guest list other than our children as a surprise. She deserved the party as on my 75th she had a houseful of fellow school retirees and friends at our house. Knowing that our guests would be at the house I fortified the larder with boughten cookies but our daughter saved the day with homegrown cookies. My wife by the way is quite a cook and got a bang out of my purchased Oreos and Lorna Doones.

I am not going to proof read this letter. Ink stains would make the letter less readable and even more untidy. When I took up typing fifty five years ago, my mother was happy because then she too would be able to read my letters.

In the event that I had not sent to you previously information from the Drangedal Med Tordal Book by Olav Sannes I am sending you page 639 which gives the descendents of the Vaagsland line from Lars Nottolfson down thru your forebearers that came to Wisconsin. in the event that you do not read or translate Norwegian I shall thranslate that which is pertinant to your line. I shall start with the top of the page:

Lars (Nottolfson born 1705) had received a part of the Snoas (farm) again. He must have received a part of the farm (Vaagsland) again, as Nottolf and Olav (his sons and your and my ancestors respectively) each received his farm with a rental value of one Tn. (tunne-- about four bushels, I think) in Vaagsland.

Nordistua (The North farm home or farmstad)
(This is the place your ancestor came from)

Nottolf Larsson, b. 1722 d. 1807 married first Dordi Anundsdotter Lauvstad, without children. The second time with Kari Torbjornsdotter Vraalstad, d. 1792. Children Olav, Torbjorn, Lars, Jorgen, Simon, Dordi, Kari (married to Olav Kjetilson Grave), and Helge (married to Halvor Olson Vraalstad). Olaf Nottolfson was in 1789 married to Kari Olsdotter Aase b. 1761 d. 1843. Children Nottolf, Olav, and Halvor.-- Nottolf gave ownership to his son Nottolf Olson, b. 1795 married to Asborg Simonsdotter Overtveit b. 1795. Children Kari and Olav. Nottolf gave 1832 ownership of the farm for 700 spd. to his brother Olav Olson, b. 1800 m. to Maria Steinersdotter Vraalstad b. 1800. Olav (your ancestor) sold in 1850 the farm for 1200 spd. to Elling Ellingson Naas. He (Olav) went with his family to America.

The next paragraph is not relevant as it traces the subsequent farm ownership and history.

Oppistua (The upper farm or farmstad)

This paragraph traces the farm history of the place from which my ancestry comes. First Olav Larsson, the brother of your Nottolf, then his son Lars Olson, my great grandfather who lost the farm and had to have help from the relief system of that day (fattig kasa). Lars Olson was married twice first to Asborg Knutdotter Tveit and subsequently to Inger Rasmusdotter. The children of the above are not all accounted for in these write ups. My father's father Halvor Larsson Voxland was the eighteenth child of Lars Olson. It is obvious that we Minnesota Voxlands almost "missed the boat" as our grandsires were the 16th, 17th and 18th children born to Lars and Inger. I mention in my story that we Minnesotans are grateful that they did not stop after the 15th.

The half sister of my grandfather, Marie Larsdotter, and her husband were the first to leave Drangedal for America. They brought with them four sons and subsequently had four additional children but they are lost to us as we have no information on where they went from Illinois after the U.S. Census of 1850.

The first Simon mentioned in your Nordistua writeup is the ancestor of the Rushford, Minn. Woxlands. The Nottolf Olson born 1795 was the ancestor of the Wisconsin Nottolfsons. Nottolf's son Olav came to Scandinavia Wis. and fathered that line.

I apologize again for my poor typing. My senility is not as severe as my typing skills indicate.

I did receive a letter from Herbert Wogsland but I cannot lay my hands on it. It didhave some significant information on it. He said either his father or grandfather was adopted but the man's wife he had heard was supposedly related to the Wogslands.

When I get my hands on the letter I shall send it on.

Melvin

Robert N. Hanson
7210 Meadowlark Lane
Wisconsin Rapids
Wis 54494

His relationship to you and I dates back to Lars Nottolfson of 1705.
Herefollows a copy of the page Melvin translated from "Drangedal Med Tordal", one of the most important books in Vaagsland history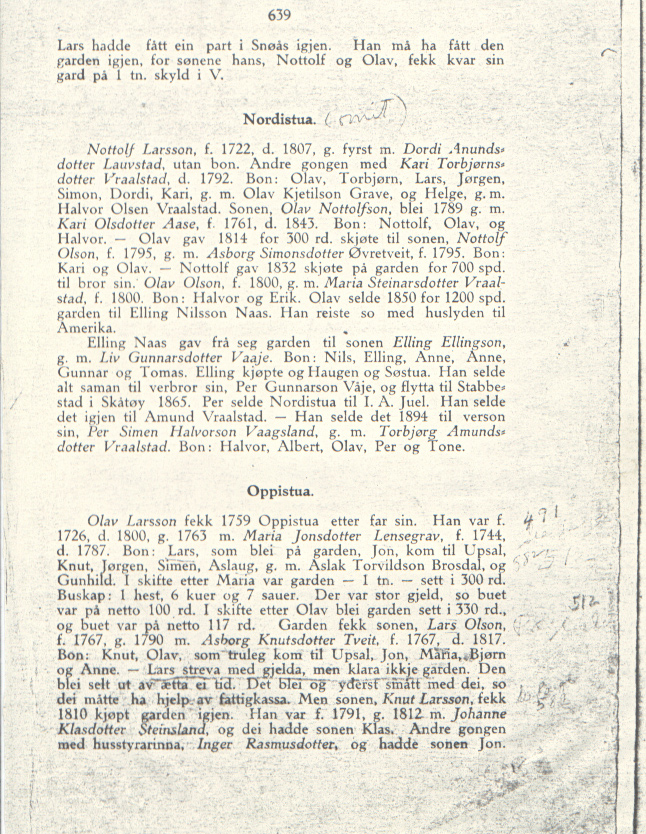 Melvin eventually did get his hands on the letter from Herbert Wogsland, and attached it to the next letter he sent (see below).
---
22-23 May 1980
724 W. Ring Factory Road
Bel Air, MD 21014
Dear Melvin,

Thank you very much for the page (p.639) that you sent me from the Drangedal/Tordal book by Olav Sannes. Also, thank you for translating; I need to use a Norwegian/English dictionary. However, as you wrote, one needs to know just a few words to follow the text and get its basic meaning. It would be interesting to see page 638 and any prior pages relating to Vaagsland also ... even though you will be translating them in your "book". The Sannes book must contain a gold mine of information when you consider how much there is just on page 639. Of special importance to me was obtaining the name of my great-great-great grandmother, Kari Olsdotter Aase, and my great-great-great-great grandmother, Kari Torbjornsdotter Vraalstad. Also, I previously did not have all the names of their children as listed on this page. It is possible that some names (children) are missing too, which is indicated by the deletion of Anne between Halvor and Erik, children of Olav Olson and Maria ( the older children were born before 1832, probably on a farm named GRAVE).

Your plan is good to put the information you have assembled on paper now while you remember it. Later, you can make additions and can even "publish" a "second edition" or distribute revised or supplemental pages. Even at my tender age of 52, I find new information by just re-reading letters just one or two years old ... which is a sign of either poor retention or forgetfulness.

I recently received a letter from Barbara Taylor, who explained the connection between her family and mine. Over the years, their name (after dropping Vågsland) evolved from Notolfson to Nottleson. Barbara spelled Vaagsland using å instead of aa ... I found a dictionary that mentioned that å formerly was written aa. The raises a new question ... are we of the Vaagsland family or the Vågsland family? I think I will stick with Vaagsland, the spelling used by Olav Sannes.

I recently wrote to Lorraine Peterson (Oconomowoc, Wis.), granddaughter of Erik Wogsland (first paragraph above), who may assemble a listing of his descendents for me. I also wrote to Walter Wogsland, Burlington, Vt., who is my uncle Walter's (and my father's) first cousin. He had several strokes last fall and is not doing well. His wife Priscilla wrote me a nice letter and is making contact with a niece, Sister Mary Wogsland, who has assembled the names of the descendents of my great uncle, Ole Martin Wogsland. Also, I still correspond regularly with Raymond Wogsland in Seattle, Washington. I wonder if the volcanic ash from Mt. St. Helens got as far north as Seattle? Montana even got a lot, according to the news reports.

I recently received some information an the descendants of Stener (Steinar) Wogsland, an older brother of Halvor and Erik (again refer to paragraph 1). It was a 6-page chart prepared by a Bernice Meeker in 1965, which she sent to the Melvin Wogslands (Lengby, Minn.). Melvin's wife recently sent a copy to Raymond W. (Seattle) and he sent a copy to me.

That's one way to circulate our genealogical information .... by using a "chain letter".

I would appreciate seeing Herbert Wogsland's letter if you find it. The exact relationship between his grandfather, Carl W., and Steinar/Steinar's second wife/and Halvor is still unclear to me. Carl apparently was the son of Steinar's second wife and was adopted by Halvor. However, Bernice Meeker's chart shows Carl as a son of Steinar and his first wife. I may try to write Herbert in care of the bank that he is managing near Minneapolis. Thank's for the clippings. Do you want the newspaper clippings returned? It is easy for me to make xerox copies of clippings or other materials, after which I can return the originals to you.

Well, I had better get back to work now so I will sign off. Greet Alice and take care of yourselves. Mary Dell sends her best wishes too.

Cousin,

Neal Wogsland

P.S. - I had better plant some tomatoes and peppers this weekend if I want to harvest any later. I guess you have your garden underway by now too.

PPS. - Nancy, our youngest daughter, came through with "flying colors" and graduated from East Carolina University with a BFA in Commercial Art. Her grade point average of 3.73 (out of 4.0) was fantastic.
As Neal mentioned, Vaagsland is the older Norwegian spelling of the name. In America it became Wogsland, Voxland, Woxland, etc., but in Norway the descendents of this line now spell it Vågsland, the å being merely modern Norwegian shorthand for aa.
---
Melvin's typing had gotten much better by the time he wrote this letter.
The address for Robt M. Hanson - Man who stems from Vaagsland also
7210 Meadowland Lane
Wisconsin Rapids, Wis.
54494
1108 7th Ave. N.E.
Rochester, Minnesota
August 11, 1980
Dear Cousin,

By now you have probabl received the Voxland Viking Saga. I thot it would interest you and also might give a little information. You had asked for the couple of pages preceding 639. I guess I sent you only 638 and that I sent because it has a rather dim picture of what the Vaagsland layout looks like. It is the best I have. All of the pages which concern your family tree are included in the book and perhaps you have found them now.

You perhaps have found the Vraalstad pages too which will permit you to trace the ancestry of that Vraalstad grandmother of yours back to about 1300, the same lineage as I have in our our family tree in the middle of the book. My geat great grandmother Mari Jonsdotter was of that line and is or was a sister of some ancestor of yours from whom you are descendent. I could have traced it for you but decided to give you the pleasure of going it yourself despite your inprofisioncy in norwegian. When you have done it if you want me to chaeck on its accuracy you can send it on to me. Hallvard Grautopp is of that line and in the appendix you will see a page from the Encyclopedia Brittanic where your and my ancestor has one line of remembrance for his efforts against the Prince or ruler Eric of Pomerania. Hallvard did not defeat him, -- the Danes themselves took care of that because they did not like him either.

As of the present I am busy completing an equally lengthy Saga of my mother and her ancestors. Her parents both came to the United States from Sognal in Sogn just off Sognefjor. They came unmarried with my grandmother first being married to gramps brother from 1861 and three children all of whom died. My grandfather on that side of the family marrying his brothers widow when he was but 16 years of age. This was a contrast to the great grandfather on the Voxland side who at age 65 fathered my grandfather Halvor, his eighteenth child. This is evidence that those of my line go to work early and work late.

You must excuse my typing which I am trying to relearn after a 55 year usage lapse. Despite errors which I do not correct it may be that my typing is easier to read that my hand written letters.

Alice and I remain well and still busy although we have both given up the many little jobs which we bet elected to or drafted into. I can already see that I shall have leisure time to be retired now that the genealogies are completed. I still have several little gardens but may drop one and enlarge another to conserve an gas next year.

The Minnesota Voxlands had a large family reunion at which th Saga was distributed. That worked out well as I retrived most of my out of pocket expenses that day. When and if you get ready to print yours up you can solicit my experience.

I am enclosing the letter which I received from the banker Wogsland. I did meet his father once. His first name too was Melvin and he lived in Lengby, Minnesota, but has since died.

With best wishes

Melvin

P.S. I should re-read this but wont.
Here is a pdf version of the Voxland Viking Saga, the half Melvin's genealogical masterwork which pertains to the current site.
The following is the letter Herbert Wogsland sent to Melvin and Melvin passed on to Neal:
March 19, 1979
Mr. Melvin Voxland
1108 Seventh Avenue Northeast
Rochester, Minnesota 55901
Dear Melvin:
I have your letter of February 9 and of course it is of great interest to me. First let me apologize for such a tardy reply, however, I have been on vacation and then the press of getting acquainted at a new position seems to have taken my time.
My father was Melvin LeRoy Wogsland, born at Rice Lake, Wisconsin on February 26, 1900. He passed away on February 22, 1978. He grew up at Iola, Wisconsin and lived there until he was 17 or 18 years old when he moved to North Dakota. He was the son of Carl Wogsland and Mattie Peterson Wogsland. I believe Carl was adopted by the Wogsland family, however, it seems there was some relationship to the Wogslands by his real mother although it may have been through marriage. My father's mother died when he was three years old and his father was deceased before he married. My mother is still living at Fosston, Minnesota and her maiden name was Mabel Berteen Paulson.
OUr parents had four boys of which I am the eldest, my brothers' names are Gordon (deceased - 1974), James and Neil.
My wife and I have two sons, Robert Jay and Thomas Kent, both living in western Montana and both married.
We did live at Fargo for some time, and I guess I am tha banker you referred to. My brother Neil lives in Wayzata and our deceased brother Gordon has two sons living here as well as his daughter and widow who are living in Wayzata. Our brother James lives in Peoria, Illinois and is the Corporate Treasurer for the Caterpillar Company. Our parents did live at Lengby, Minnesota where we still had a small farm up until my father's death.
It was interesting to receive your letter, and if you are ever in our area, I would certainly welcome the chance to get acquainted.
Sincerely yours,
Herbert Wogsland
H. J. Wogsland
President
---
4 November 1980
Dear Melvin,

Yes, I did receive the "Voxland Viking Saga". Terrific!!!! Thank you so very much. That was a real accomplishment, getting some of your extensive research into print. I have read it, cover to cover, including most of the Norse (Norsk?)......well, Norwegian (as you can see, I'm an amateur with my own ancestral language).

I will write more soon but am sending this because I feel a short note is better than none. I presently am trying to complete a listing of the descendants of my great-grandfather, Ole Olson Wogsland, before Christmas so I can send copies to family members with the Christmas Cards. Thanks again!

Neal
---
18 December 1981
Dear Cousin Melvin,

Greetings and best wishes to you and Alice for the coming year. It has been a long time since I have written so I'm slipping a quick note in with this Christmas card. I hope this note finds you in good health. We are doing quite well. Our youngest daughter, Nancy, is recovering from a skiing accident...no broken bones but a monstrous black eye. Good news...we have a second grandson, Patrick Andrew Wogsland, who was born to Sally and Jim last February. Also, the bad news...my mother died in September (dad passed away in June 1980).

Just a short note for now. I haven't done much genealogical investigation during the past year. What I have done has been divided between my wife's family and mine, both father's and mother's sides. This unique stationery (- over -) is a preliminary genealogical chart that I prepared a year ago but never circulated. This chart lists most of the descendants of Ole and Gunhild Wogsland, my great-grandparents. My grandson Patrick is not on it and I'm sure there are others that should be added. It still needs a lot of middle names and names of spouses; probably contains numerous spelling errors, too.

This chart is just for one of the 5 or 6 families descending from Ole (Olav) Olson Wogsland (1800 - 1866) and Maria Stenersdatter Vraalstad (1799 - 1864), who came to the United States in 1850. I plan to assemble the other charts soon.

When working on the chart, I suddenly realized that I have 54 Wogsland second cousins (actually 44 of direct lineage) and I do not know any of them except through correspondence. Remember the first list I sent you about 4 years ago! This new list contains about 5 times as many people for this part of the Wogsland clan; and we are just a small percentage of the VAAGSLAND family in America.

Thank you again for the "VOXLAND VIKING SAGA". Terrific! Do you have extra copies available for sale?

Have you prepared lists of descendants such as this one? Have you had any success in tracing the Illinois immigrants yet? (Maria Larsdatter (Peterson) and Jon Larsson (John Larson))

I am inclosing a recent snapshot of Mary Dell and myself so that we can get a little better acquainted. Please write when you have an opportunity. May the Lord be with you and Alice during this season of celebrating His birth,

Your Cousin,
Neal Wogsland
(- and Mary Dell, too-)
Below is Neal's "unique stationery". You might also want to check out the pages of Ole and Gunhild.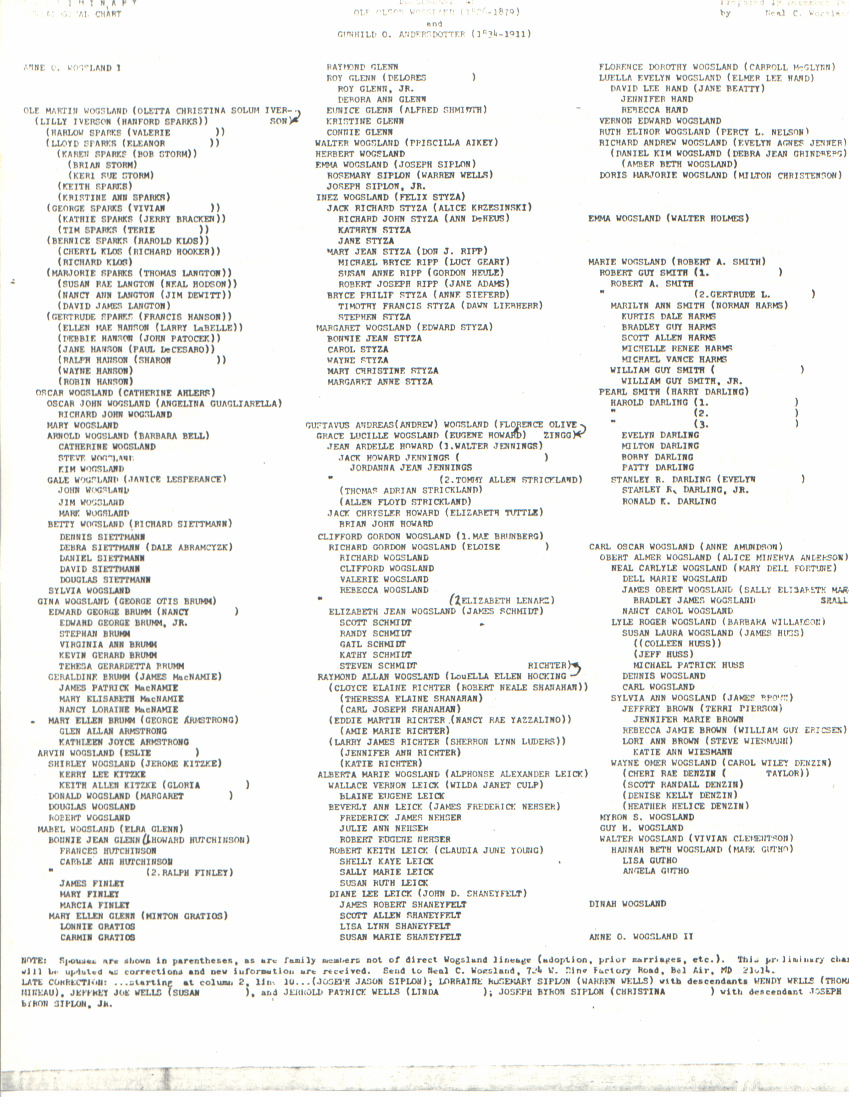 ---
The following is the Voxland's generic Christmas letter for 1981. On the back Melvin wrote an extra note to Neal.
Seasons Greetings
This season finds us as usual busy, healthy, and happy. Our contacts with both sides of our families have been frequent and pleasureable. Clara and Ingmar's 50th wedding anniversary party at McIntosh, a highlight prepared by their children, confirmation get togethers of grandnieces and nephews, visits at Owatonna with the Molstres, at Northfield with the Baumbachs, at Litchfield with the Nelsons, and at Kenyon with relatives and friends. We were with Sundholm relatives at St. Peter, Helen and Bernice, at North St. Paul, with Elinor at Fergus Falls, with Terry and family. On one such visit to St. Peter Alice posed for a photo with a great, great, grand nephew and niece.
We are trying to reduce some of our activity participations but still keep occupied with church life and senior citizen organizations, and delivering meals on wheels to some eight to ten shut-ins. Summer gardening is always a victory affair. That is, according to Melvin.
Distribution of the family history books is nearing the end. Books were sent to several colleges, archives, and county historical societies, and libraries including such places in Hafslo, Sogndal and Drangedal, Norway. A request for copies with permission to microfilm came from the Genealogical Society of Salt Lake City.
This summer we attended the Sogning Log and Telelog annual meetings at St. Olaf College, the 40th wedding anniversary of Viola and Almon Wille at Red Wing. Viola, as a high school student, made her home with us for several years, and the 50th class reunion at White Bear Lake, a very special highlight for us both, and a 35th class reunion at Red Wing. We also squeezed in a short visit to Ely (Alice's home town) and Burntside Lake with Ellen Sundholm and the Bezeks (class mates at Ely). In October we enjoyed attending the annual State Retired Educators Convention at Duluth. This trip was made with two bus loads of retired teachers from our area.
As to our family - at this writing Philip is in Switzerland attending as a delegate an International Bicycle event. He will extend his trip to include Brussels and Paris. Philip continues at U of M as director of Social Science Research Center. Karen and John and family are busy with college life at Luther, Decorah, Iowa. Paul, the oldest son, is a student at Waldorf College, David is a Senior High Student, and Ann is a lively eighth grader.
We are in the serious planning stage for moving to 7500 York, a senior citizens cooperative in Edina, this coming summer. We had such an opportunity last September, but couldn't manage the move at the time.
We enjoy the evening aspects of our retirement which allows us to remain at home by the fireplace enjoying reading, needlework, or watching T.V.
For the year 1981, with its many blessings of good health, a fine family, and many good caring friends, we are very thankful. May your New Year likewise be blessed.
Melvin and Alice
Rochester, Minn
Jan 4, 1982
Dear Wogslands,

I very much enjoyed your letter and very much enlarged family tree. I have added your grandson. I noted to Wayne Wogsland - I believe it was he that I called in Houston, Texas who referred me to you and opened an enjoyable correspondence. In the same mail I had a reply from Ray Wogsland of Seattle who we called when in Seattle and topped it off with a Salmon dinner at their house. We made a 36 hour bus stop in Seattle while on a bus tour. Later I found he is related to a Melvin Wogsland family at Lengby, Minn. Melvin Wogsland has died - one of his sons is a bachelor in Edina. Our family first became aware of Wogsland in that community from a newspaper article which related that this Melvin was the first to come upon a murder committed by a woman on a neighboring farm. I made at least three Melvin to Melvin stops at his farm home. His widow now lives at Fossten, Minn - next town to McIntosh.

No further information on 1850 Jon Larsson and the Peterson family. I shall try the Mormon "Utah" Genealogical Society to see if they might have been the early Illinois Norwegians who joined the Mormon church.

I do have some available Voxland Viking Saga's available - by mail they are $4.75 for one and $9.00 for 2.

I reach 80 years this month - still in pretty good health. This christmas letter gives you a birds eye look at our annualized family life.

Melvin
Thanks for writing.
---
The following is the Voxland's generic printed Christmas letter from 1982 (from references in the letter). On the back Melvin penned an extra note to Neal.
As we move with the calender into the eighties we are trying to give ourselves in-service training in aging so that we shall be well readied for our own nineties.
The past year has been very good to us - it's great to spend the evenings at home. In the summer time when then weather permits we like to spend our leisure time just lounging in the back yard enjoying the flowers and bird activities. Now that winter is here, the evenings next to the fireplace give us much contentment, with good reading and T.V. programs such as Becket last night. Yes, occasionally this routine gives way to some social or church events. We need that "circulation" too.
It was much fun this summer during the month of July to be hosts for the first time ever to Wickum relatives from Oslo, Norway - the Ambles and their two lovely daughters. They also visited mutual relatives out West and Florida.
We did very little out of state traveling this year, in fact only to Iowa to visit with Karen's family. Then in June we combined three trips to areas in Northern Minnesota - first to vacation at Tjostems cabin. While there we attended a Voxland-Rasmuson reunion at Fosston. And then to McIntosh for family visits with sisters and nieces and nephews. Our trips to the Twin Cities are less frequent. Two family weddings in Minneapolis on both sides of our family were very festive occasions. The one of Melvin's grandniece was highlighted by our Norwegian relatives attending in their native costumes. The other wedding of Alices great grandnephew, at which the marriage ceremony was done in sign language as both bride and groom are deaf.
Our visits with Philip have also been fewer. His week-ends are so occupied with bicycle duties and events. This past September Philip was elected president of the United States Bicycle Federation - an office which the past months has kept him very busy traveling. He has been to Europe twice - attending meetings in London, Paris, Brussels, Madrid, and widely in the U.S. planning for the 1984 Olympics cycling events in California.
As grandparents we can boast of two college boys - Paul as a sophomore at Waldorf College, and David, a freshman at Luther College. Both are enjoying college life and doing well. Ann, our lively granddaughter, is a ninth grader and a cheerleader for Jr. High sports.
Our local retired teacher's association is a very active group. On Saturday we join some forty retirees to go by bus to Guthrie Theatre for a Christmas Carol production Last month we attended with the same group in Indiana - Viking football game at the new Metrodome. That was our second visit to the Metrodome - the first was to see the huge Scandinavia Today Festival (some 60,000 in attendance) with royalties from five countries - parades, music, dances, and food typical to each country.
We are still sitting comfortably in Rochester after turin down two apartment offers not exactly to our liking at 7500 York, Edina. We hope the next vacancy won't occur during the winter months.
May your holidays and the New Year be blessed with peace, joy, and good will.
Alice + Melvin
I am running out of Voxland books
have only six left
Sometime I may send you a tree covering your Vraalstad relationship. I have some things worked out. The second wife of one of your ancestors named Maria was a Vraalstad. The family goes back and includes the Halvard Vraalstad who is pictured in the Voxland Saga. I am trying to find out what may have happened to the grand uncles who lived in LaSalle County Illinois. I do find them in the Census of 1850 - by 1860 they had moved away.
Best regards,
Melvin
---
12/19/87
Dear Cousins Melvin and Alice,

We wish you a wonderful Christmas and a successful new year, and hope that you can see most of your children and grandchildren during the holidays.

Our family was all together in California last Christmas but we will staty in Maryland this year. Only Nancy, who lives in Richmond VA, will be with us. Dell and Bob Elias moved last New Year's Eve to their new house in the Emerald Hills area of Redwood City, CA. After a very difficult pregnancy (Mary Dell spent 4 months with Dell), Julie's sister Kristen was born 6/20/87. Meanwhile, Jim and Sally W. moved from West Chester PA to Dublin CA in June 1986. Bradley is now in the 3rd grade, Patrick is in the 1st grade, and Jaime attends nursery school. All 5 grandchildren are over 3000 miles away!

Although I have retired, I am as busy as ever. I have not progressed very far on the Wogsland genealogy during the past 2 years. However, I have traced several of Mary Dell's ancestors to the early 1800's and two into the 1700's in colonial America.

The VOXLAND VIKING SAGA is great! Do you have any extra copies for sale? Have you had any success tracing the Illinois families? You told me that you had found the Larsson and Peterson names in the 1850 census.

Thanks for the contact you gave me for the Bergen family (Mrs. Sands in Alabama).

Best Wishes,
Neal Wogsland
---