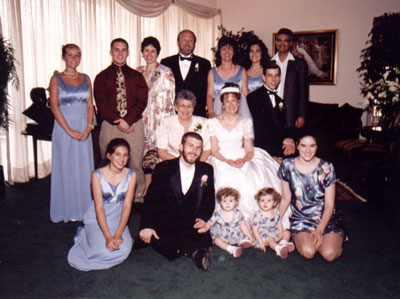 The whole family together for Nancy's wedding to Ken. (Back:
Jaime, Packie, Sally, Jim, Dell, Julie, Bob. Middle: Mary Dell,
Nancy, Ken. Front: Kristen, Bradley, Brittan, Alora, Cara.)
There she met Ken Nicholas, whom she wed 10 April 1999 in Alpharetta, GA. She opted to keep two middle names so as to retain the NCW in her name in honor of her father. They currently make their home in Norcross, GA. In 2007 they adopted a baby, Brenton, from Kazakhstan.