Dear Cousin Walter,

During the past several years, I have been corresponding with various relatives in an effort to assemble a list of the name s of descendents of Ole (Olav) Olson Wogsland (Vaagsland or Vågsland) and his wife Maria Steinersdotter (Stenersdotter) Vraalstad (Wrolsted), who immigrated to the USA (Wisconsin) with their family ... Ole, Steiner (Stener), Aasta (Aaste), Halvor, Anne, and Erik (Eric) ...in 1850. The various spellings of these names are just a few of those that I have encountered. Ole and Maria were my great-great-grandparents. They first settled in a community on the Rock River near Ashippun, Dodge County, Wisconsin, and then moved to the New Hope/Iola area in 1854.

My parents, Obert and Alice Wogsland, 1124 Charles St., Fort Atkinson, Wis. 53538, told me the names they could remember in your branch of the family, but I have not written to anyone to expand my list until now. I would appreciate receiving names (and addresses, if conveniently available) of the descendents of Martin Wogsland. Also, do you know of anyone who has gathered genealogical data on our family?

I am the oldest of the children of Obert and Alice W., followed by Lyle, Sylvia (Brown), and Wayne. I graduated from Shawano High School (Wis.) in 1945 and the University of Wisconsin in 1949. I am employed by the Dept. of the Army at Aberdeen Proving Ground as a Mechanical Engineer. I married Mary Dell Fortune of Baltimore in 1952 and we have 3 children. Dell Marie graduated from Western Maryland College in 1976 and is an Investigator for the U.S. Office of Personnel Management. James graduated from W.M.C. in 1978 and is an Insurance Adjuster. Nancy will graduate from East Carolina University in May with a Bachelor of Fine Arts degree in Commercial Art. I have a grandson, also ... Bradley W., 1 month-old son of James and Sally W.

When attending the wedding of my niece, Lori Brown, to Steve Wiseman in Fort Atkinson, Wisconsin, last October, my uncle Walter W. from Iola told me that you and he have been corresponding. I promptly took pen in hand and it has taken only 6 months to get this far ... about 1 word per day.

When I started serious searching for the Wogsland genealogy about 2½ years ago, I was under the impression that only Ole, Halvor, and Erik had immigrated and the rest of the family had stayed in Norway. Then I received a clipping from the Iola Herald from Melvin Voxland in Rochester, Minnesota, who stated that our ancestral lines merge back in the 1700's. The clipping mentioned the names of Steiner Woxland and Knut and Aaste Bergenamong the membership of New Hope Church in 1890-1. Melvin told me that they also were brother and sister to our forefather, Ole. Then I went to the National Archives in Washington, D.C., and searched through old census records. The 1860 records showed Ole and Mary Oleson and son Eric living with Ole and Cornelia Volksland in the town of New Hope. Meanwhile, Stein and Adline Olsen (or Oleson) were neighbors of Halvor Oleson in the town of Iola. There was no mention of the Bergens or of Anne W. I eventually found the Bergens (Knut and Caroline) in the 1900 census and then decided to go through the 1880 record for the town of Iola name-by-name. They had used the name GUNDERSON and were neighbors of Steiner and Halvor. I have assembled a chart showing the names I have found so far. A copy is inclosed. I have found no references to the sister named Anne after 1852, when she was confirmed (in Wisconsin) by Rev. N. Brandt. I would appreciate any information that you can give me on these ancestors, and especially on Anne Olesdotter Wogsland.......

I also have put together several charts showing the descendants of our immigrant ancestors, one of which I am inclosing. With each generation, the members have increased to the point where it is impossible to get all of the names on a single page. For example, the chart I have inclosed shows only 3 generations of descendants of your great-grandparents, Ole and Maria Olson Wogsland. As you can see, I do not have your mother's maiden name recorded ... or that of your aunt Florence (which I can get from your cousin Raymond when I write to him again).

I also need the names of the descendents of Martin Wogsland (plus wives/husbands) so that I update and complete my chart for the descendants of Ole & Gunhild Wogsland (I mentioned this before).

After I get the income tax forms completed, I plan to update a chart on the descendants of Lars Nottolfson (and Aslaug Simonsdotter), 1705-1777, of Vaagsland Gaard (Farm), Tordal (Torisdal), Telemark (Bratsberg), Norway. I have recently received several names to be added. My Great-Great-Great-Great-Great Grandfather, Lars, divided Vaagsland between sons Olav Larsson and Nottolf Larson (1722-1807). Melvin Voxland is Olav's Great-Great Grandson. Our line follows: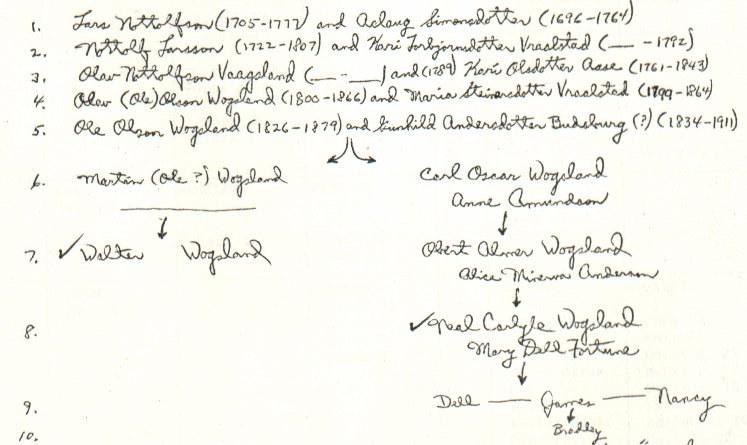 I'm not sure whether I should call you "cousin" or "uncle" ... or perhaps "second-cousin". Officially, it is "first-cousin, once removed". Anyway, please write .... your 1½ Cousin, Neal W.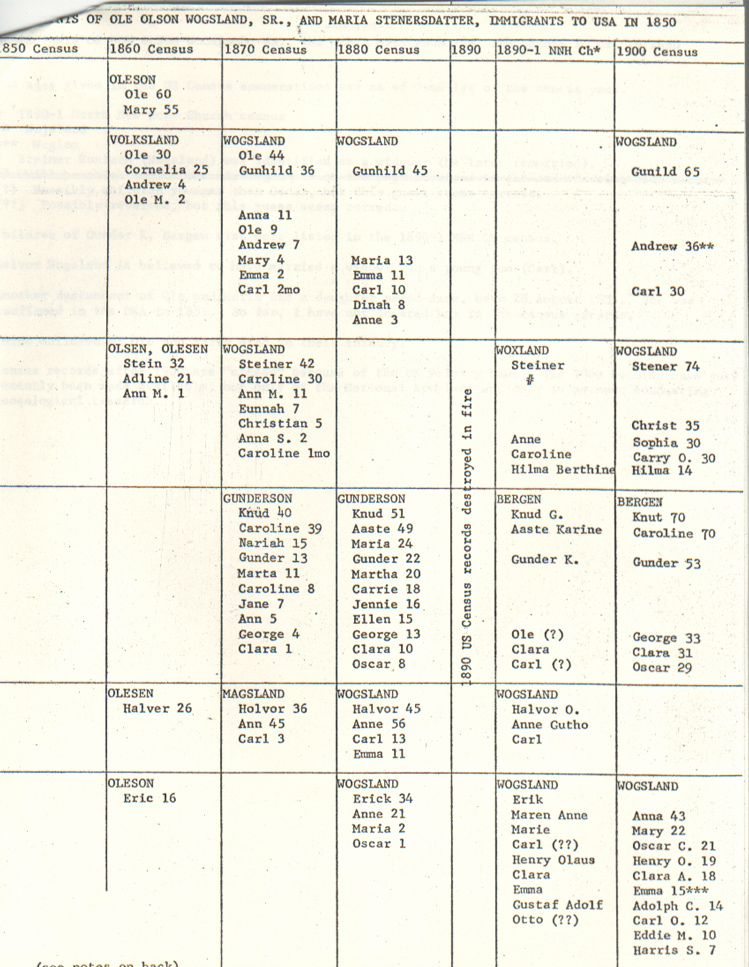 --NOTES--
DESCENDANTS OF OLE OLSON WOGSLAND, SR., AND MARIA STENERSDATTER, IMMIGRANTS TO USA IN 1850
The ages given in the US census enumerations are as of June 1st of te census year.
* 1890-1 North New Hope Church census
** Wojsland
*** Woglan
# Steiner Woxland (Wogsland) was identified as a widower (he later remarried).
(?) Possible children younger than Oscar, but this guess seems correct.
(??) Possibly reversed, but this guess seems correct
Children of Gunder K. Bergen also were listed in the 1890-1 NNH Ch census.
Halvor Wogsland is believed to have married a widow with a young son (Carl).
Another descendant of Ole and Maria was a daughter named Anne, born 28 August 1836. She was confirmed in the USA in 1851. So far, I have not located her in the census records.
Three children of Ole and Maria died in their infancy.
Census records after 1900 are "closed" because of the US Privacy Laws. The 1900 records have just recently been made available, but only at the National Archives and only to persons conducting genealogical research.