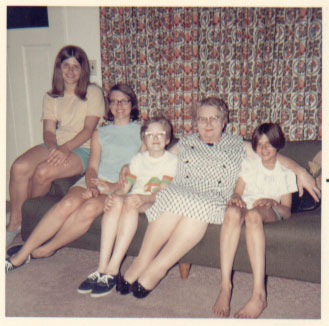 Alice and her granddaughters in 1969
(L to R) Becky, Dell, Nancy, Alice,and Lori.
In 1948 Alice and Obert moved to Fort Atkinson, WI. She worked at the Fort Fur Co. Her granchildren called her by two different names: nonnie (Sylvia's kids), and grandma (Neal's kids). She lost her husband Obert during the Summer of 1980. Alice died on the 23rd of September, 1981 in Fort Atkinson, WI.