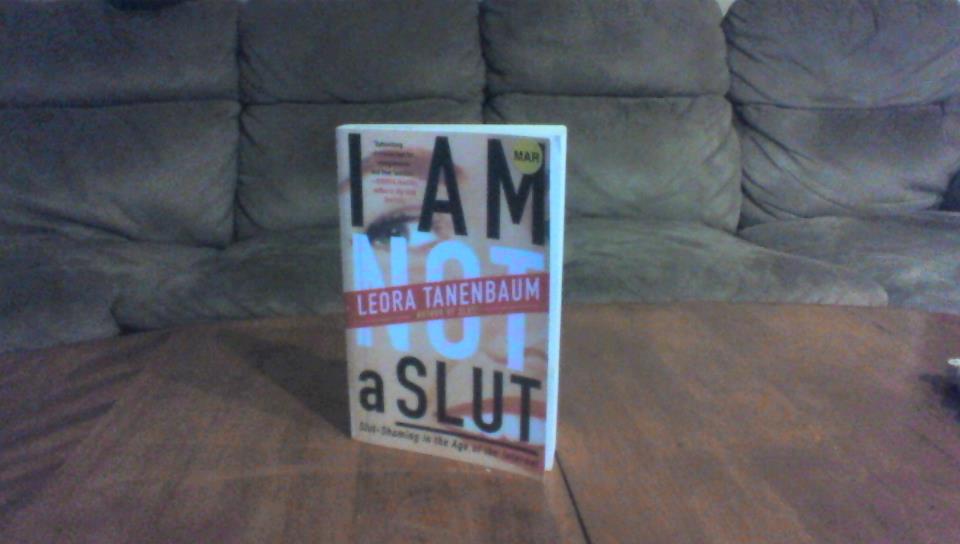 Hello again,
I thoroughly enjoyed reading I Am Not a Slut by Leora Tanenbaum. It was a wonderful book on slut-shaming and slut-bashing in the modern day world. Also, it was a well thought out and well executed argument against using the word "slut," in any context. I Am Not a Slut is the first real feminist book I've read. It was very interesting to listen to another person, who feels just as strongly about equality as I do, argue against the word "slut" and expose the sexual double standard in all it's horrible glory. Tanenbaum truly did her research when writing this book. She cites interviews with women and girls of different ages and she cites scientific studies from different fields. Her arguments were well backed and she argued passionately without sounding preachy. There were a few parts of the book where I got thrown off by her strong voice and character and her passion for the subject. I had to remind myself that strongly opinionated women are not inherently bad or wrong and, had I been writing this book, I would have written just as passionately.
The book consists of nine chapters and three appendices. The first chapter compares modern day usage of the word "slut" to how it was used when Tanenbaum published the book Slut! in 1991. A lot has changed since then and the first chapter gives a good introduction to the book and introduces the reader to important concepts that are referenced later in the book. The chapters continue in a well organized manner, introducing more ideas and building on the previous chapters. I Am Not a Slut is a very interesting look at modern bullying and the way we use the word "slut" today.
In one of the chapters, Tanenbaum talks about reclaiming the word and using to mean empowerment. She talks about how this usually only works in specific "in" groups. I have experienced this with the word "ho." A group of my friends at school and I called each other hoes all the time because it wasn't meant in a negative way. Tanenbaum says that when "slut" is used in a "friendly" way that it is actually meant to police the sexual expression of other women that are called sluts. I do not think that my friends and I calling each other "ho" was meant in that way. We self-identified as it and labeled each other and talked about it. Every time it came up we made sure to remind each other that "I support and encourage your ho activities." I realize now that this probably wasn't the best thing for us to call each other, but we didn't do it all the time and we all understood that it was meant as a term of endearment and love.
When I got home, I was in the habit of calling my loved ones hoes and that go over very well with my parents. I got out of the habit of saying the word and I don't know if I'll ever get back in the habit of it, but I definitely understand what Tanenbaum meant when she said that "slut" would only be empowering inside the "in" group.
I learned quite a lot reading this book and I enjoyed it immensely. It was a very heavy book, with large themes and big, new ideas to wrap my head around. One of those was the idea that young women and girls dress in an over-sexualized way to get attention. I was skeptical at first, but I thought about it and I think I understand. We dress in a certain maybe "sexy" way because we know it looks good on us. Often I will wear an outfit because I've gotten a lot of complements on the shirt or the shorts or what not. I stopped wearing one of my favorite shirts for a few years because, once, in middle school, an acquaintance pointed out my underarm hair while I was wearing that shirt. I've gotten past that now, but I still don't wear that shirt as often as I used to before that comment was made. My acquaintance didn't mean it in a mean way either. She was just curious about why I didn't shave my underarms, but, at that point in my life, I was still a bit insecure about my decision not to shave and every comment was embarrassing and not fun to experience.
Nowadays, I wear "sexy" clothes (i.e. crop tops and short shorts) because I know that I look good in them. Also, they are nice to wear when it's hot, and I want to wear as little as possible. I'm not in middle school anymore, and even though I'm high school aged, I'm not in high school either. I don't always dress to be sexy as Tanenbaum implies middle and high schoolers do. I often dress to impress and look my best, but sometimes I just want to wear clothes that I like, t-shirts and jeans. I think there are definitely some people that fit Tanenbaum's model, but not all people all the time. However, I understand why she says we dress sexy to get attention because we do. People love getting nice complements and nice attention, and if you dress in a certain way you are more likely to get that attention. The problem appears when people assume certain types of clothing equal consent. Tanenbaum addresses this too.
She dedicated an entire chapter to making sure that people understand that any non-consensual activities with anyone, even someone labeled a slut, is rape. It was not a very happy chapter to read, but it was a necessary part of her argument and a necessary chapter to include. Sadly, too many people blame the victim of sexual assault for the assault and often it is because of her past sexual actions or the clothing she was wearing at the time of the event.
I Am Not a Slut is a wonderful book that thoroughly argues against the use of the word slut and for the demolition of the sexual double standard. It examines all sides of the usage of slut and shows the negatives and the some, if any, positives. Tanenbaum says that "slut" may be turned around to be empowering, but it would be almost, if not totally, impossible to make "slut" positive in today's patriarchal society that promotes the sexual double standard between men and women. I would recommend this book to parents of teenagers or college students and to the college students and teenagers themselves. It is a thematically intense book and an interesting read. Whether or not you identify as a feminist, if you believe in equality of the sexes and the removal of the sexual double standard, then you would enjoy reading this book.
That's all for this review. I didn't expect it to get so long, but it happens sometimes. Especially since the book is on something I am very passionate about, feminism.
-Alora