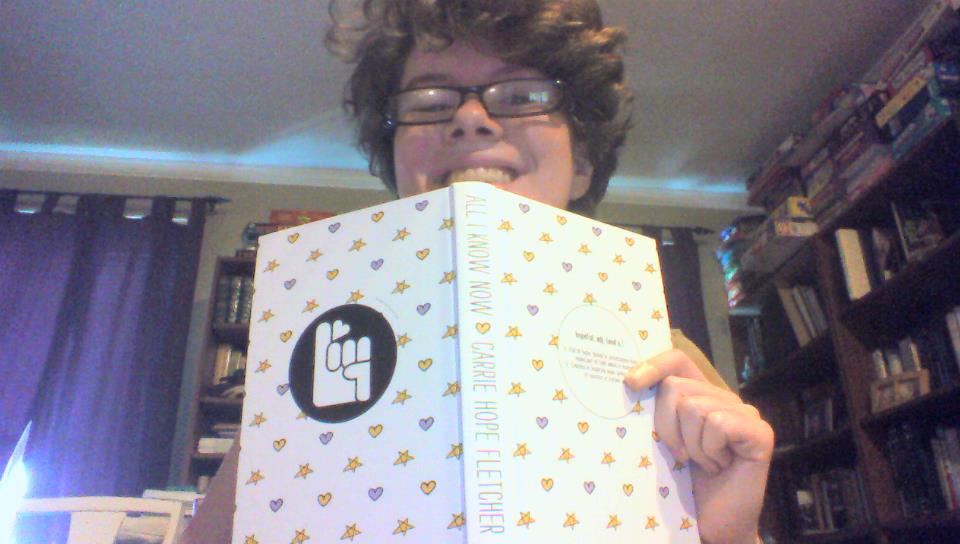 Hello to all hopefuls and teenagers out there. (Other people can of course read this, but those are the people this book is aimed at.)
I just finished the UK version of All I Know Now: Wonderings and Reflections on Growing up Gracefully by the illustrious Carrie Hope Fletcher. It was an amazing read and I am so glad I picked it up when I was in London this past May. I have been a fan of Carrie and her videos for a while. I have been watching her grow and change since 2012 and I am so proud of her and the book she has written. Sadly, the US version does not come out until August, but you can preorder it here. The secondary title is a bit different as is the cover, but it should be just as good. Personally, I prefer the UK title and cover art, but that's not the point of this blog post. Let's talk about the actual content of the book.
Carrie is currently an actress in the West End production of Les Miserables at the Queen's Theater in London, and being a total nerd, she organized her book like a play would be organized. (Nerd is used here in the most loving way possible.) In the book, there are eight "acts" that have about five chapters each inside of them. The title of each act gives the reader an idea of what the chapters enclosed in it will be focused on. For example, "Act 5: People: Imagining Them Complexly" contains six chapters all about imagining the people around you complexly. It was one of my favorite sections of the book. The book even has it's own intermission or interval right after Act 4. It's a page that says "Interval" at the top and has a sketch Carrie did of her in her Eponine costume. I've read some books with really cool organizational themes and this is one of the best.
There are 51 chapters, including the last one where she answers questions submitted by her audience, the hopefuls. The topics of the chapters range from how to handle bullying to being nice to your parents despite the fact that you are an angry and confused teenager to when to have sex with your significant other to getting along with your friends while you're all in school to a bunch of other stuff important teenage issues. As a watcher of her videos, a few of the chapters were a bit redundant because I had already watched her video on the topic, but I read them all anyways because every idea in the book deserves a second encounter. The book is all about being nice to strangers, your enemies, you friends and your family. It's also about getting on with your life in the happiest way you can. It's also about taking care of yourself in all aspects of your life. It's about so many things that I really can't condense them all into one or even three sentences.
As the eldest child in a family of four kids, I hope one day to be able to give such good advice to my younger siblings. Also, I willingly accepted Carrie as an older sister years ago. She is like an older best friend and I honestly wish I could share as much about my life with her as she just shared with me through this book. I feel our relationship is too one-sided, but I'm not sure how to repay her for creating such wonderful content on her YouTube channel and in her writing. I'll figure out a way someday. Carrie thank you for such wonderful advice in this book and over the years through your videos. I look forward to every video you post and I have since I found your channel. I've actually been back and watched the majority, if not all, of your older videos as well.
All I Know Now was a great read. At 17 I'm reaching the end of my Teen Age, so I felt some of the advice on bullying was a bit late in coming, but that's not Carrie's fault. She has created a wonderful book that I recommend every teenager read at some point in their lives. Some of the British slang is a bit crazy, but Carrie, at 22, is able to offer advice and help on living through your teenage years without sounding like she is preaching. She is only a few years out of this crazy hormonal cry-fest that being a teenager can be, but she is still able to offer a refreshing perspective on how to survive it. When she was in school, she went through some really bad experiences and she was a moody teenager too. She shares her relevant stories whether they are happy or not because she sincerely wants to help us out. I'm really glad I read this book and I hope I can convince my little siblings to read it at some point.
Thank you so much Carrie for being a great big sister and offering as much advice as possible. I look forward to more great videos and potentially more books from you. I will read them all.
Have you read All I Know Now? What did you think of it? Have you watched any of Carrie's videos? Let's talk about how amazing her book is in the comments alright?
-Alora