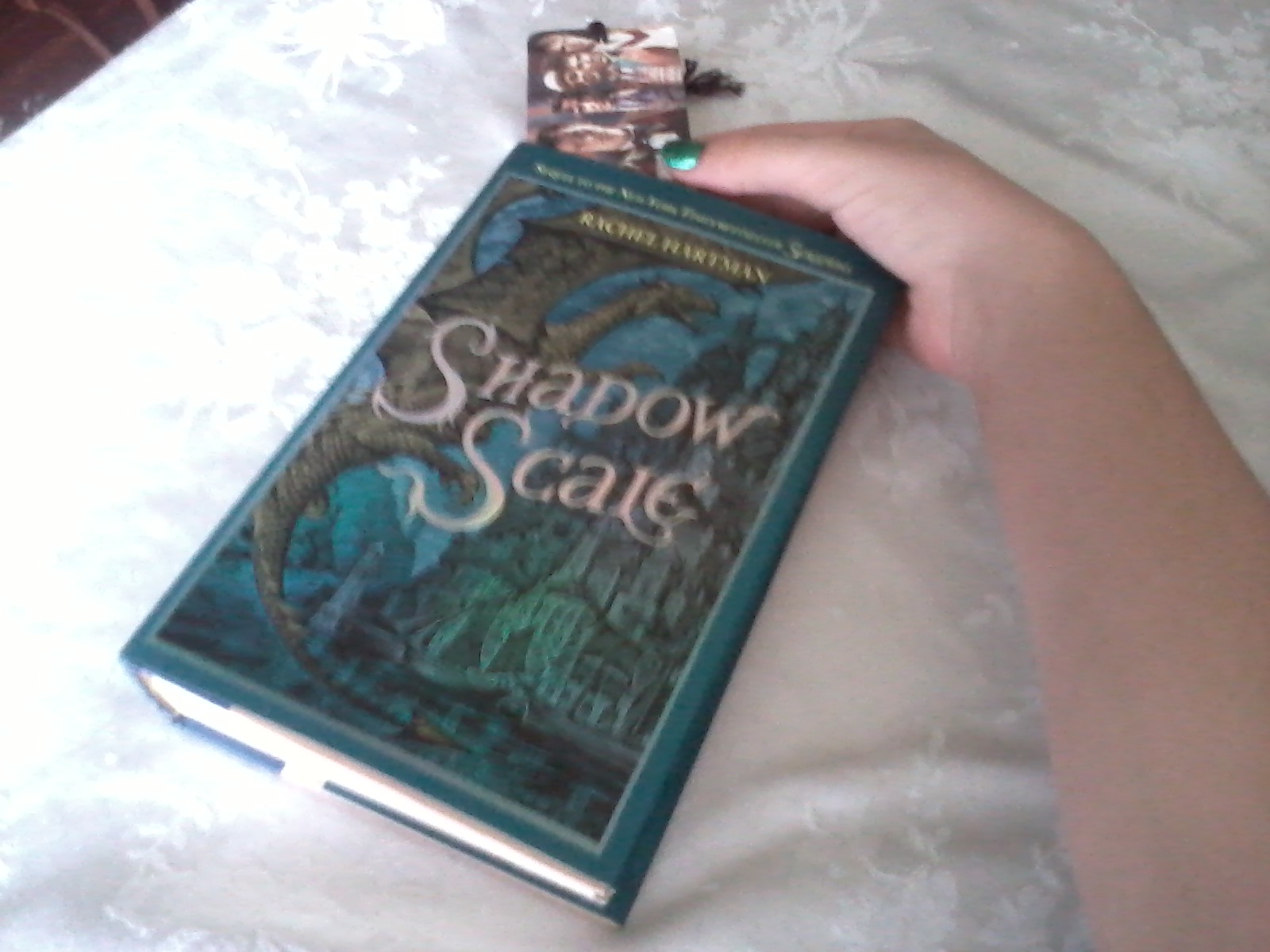 That picture looked way better on my tiny phone screen.
So I was in awe of Seraphina. For one, it was an amazing debut novel. For two it was an amazing novel. For three it was full of great characters and a new take on dragons. Now my feelings for that book have been eclipsed by those for the sequel, Shadow Scale. The second book improved upon an already wonderful world with more amazing characters and a few wonderful plot twists. It was one of the best sequels I have read to date. In Shadow Scale, Seraphina, the main character, continued her journey of self discovery and made amazing, new friends along the way. Shadow Scale offers a partial dialogue on popular culture as well as an amazing fantasy story. I would expect such an amazing rich and realistic(-ish) world from a good science fiction novel, but Rachel Hartman has managed to create a wonderful fantasy novel with elements, like the pop culture dialogue that I would expect from a science fiction novel.
The main character, Seraphina is a well-rounded female character. She has a rich history, of which we only get to see snippets. Her actions are founded in her morals and past experiences, yet she is still learning and changing throughout the book. She observes the people around her and tries her hardest to respect them despite differences in beliefs and culture. Seraphina could've very easily been a Mary Sue, but she isn't Rachel Hartman has fostered a wonderful cast of characters and Seraphina is just the one telling the story. The other characters in the world, whether they have 500 lines or 5 are just as rich and round.
Now, reader, go pick up Seraphina and then read Shadow Scale. I read a lot of fantasy and these are some of the best books I have read in a while. Thank you Katytastic for giving me the idea to buy Seraphina, and thank you Rachel Hartman for this transformative work of fantasy. I have not read a higher fantasy novel like it. These books will hopefully change the fantasy genre for the better. No more heternormativity and assumed pronouns!! I am far more excited now for your future works and only wonder if they will take place in this world or somewhere else entirely. Whatever happens, I know it will be amazing.
For those of you that have read Shadow Scale, I have some spoiler-filled fangirling that I need to get out of my system. I finished this book four days ago and am just now writing this. I have major pent-up feels.
Good day to everyone. Go away if you haven't read the book. I do not want to spoil this amazingness for you.
SPOILERS!!! LEAVE NOW IF YOU HAVEN'T READ Shadow Scale
If you haven't left yet it's your own fault. Did anyone call that Camba was Master Smasher because I sure didn't. Because she wasn't in the garden, I just figured she was some human that had managed to become a large part of the temple. I was kinda confused. Then of course Seraphina was worried she had missed some of the ityasaari which was a terrifying concept. I was so excited when Seraphina learned that Camba was the real world version of the avatar she called Master Smasher. It made me so happy. I loved Seraphina's time in Porphyry so much. Seraphina was exposed the idea of tons of different genders and terms. In Porphyry, you literally ask people what their pronouns are and it makes me so freaking happy. I got really excited about it when Abdo was teaching her more Porphyry, but I was even more excited when we learned about Camba's past. Also, Porphyry is portrayed as the super-advanced nation that is trading across the ocean and has the most sophisticated government. That also made me happy. Seraphina was made to think about Goredd in all of its backwards customs. Gorred is what our society is supposed to be though. So then the reader is thinking about the backwards ways of our society. That is what I meant by a pop culture dialogue worthy of science fiction.
Although, the dragons' tech is very sci-fi. Oooh, I just remembered another cultural dialogue: the relationship between the saar (big dragons) and the quigutl (little dragons). The saar use the quigutl devices, make huge science advances, and are percieved as better than the quigutl who are seen as dirty, stupid and lesser. The quigutl literally eat the waste dragons and, in Lavondaville, humans create. However, when Seraphina is as Lab four she befriends the quigutl, Mitha, who is a highly accomplished engineer, but the dragons still see him and his coworkers as lesser than themselves. That's a poor/rich caste system if I've ever seen one.
I've decided that Glisselda is either asexual or demisexual. Because she is definitely in love with Seraphina, but she seems okay with the prospect of marrying Lucian and spending the rest of her life not being sexually involved with the woman she loves. She could definitely just be gay, but I feel like that would create difficulties among the three of them later on. Then again, though, they are very good friends that work hard to share everything with each other. Also, they are all definitely in a nice poly relationship, even if parts of it aren't sexual. The three of them love each other and are planning on having meetings about everything. Good communication for the win! Also, Kiggs and Seraphina literally started making out in a closet and were like "Wait, we didn't have a meeting about this. Also, we both love Glisselda too much." Talk about self control! They are in a poly relationship and you can't convince me otherwise.
Rachel Hartman, I love you a lot for just writing this books, but you left me without closure on Orma. I mean there is a bit of closure, but we don't know if he and Seraphina will ever find his mind pearl. This is ridiculous. I mean, I understand why you did it as a writer, but as a fan, I am kinda frustrated. Why did you leave me without closing remarks from an Orma who remembers his niece? That would've been such a cute scene. Saints' Dogs, Rachel Hartman! You can't just do that to me. So much heartache. You and Beth Revis should compare notes. You both made me cry, but Beth made me cry because she killed EVERYONE, and you made me cry tears of love because of the great bonds of friendship between Abdo and Seraphina. *cries* I mean you both are great on your own, but just think on it. You two would make an unstoppable team.
Also, I have a niggling feeling that Prince Lucian Kiggs is actually a golden retriever, because everytime someone descibes him the use the word "doggedly." I think Rachel Hartman is trying to tell us something. He is a blond, dogged investigator. I mean what am I supposed to think?
That's it for this one. Make sure any comments with spoilers say as much. I left out a bunch of my favorite parts, but this is getting a bit long. What did you all think of the book?
-Alora