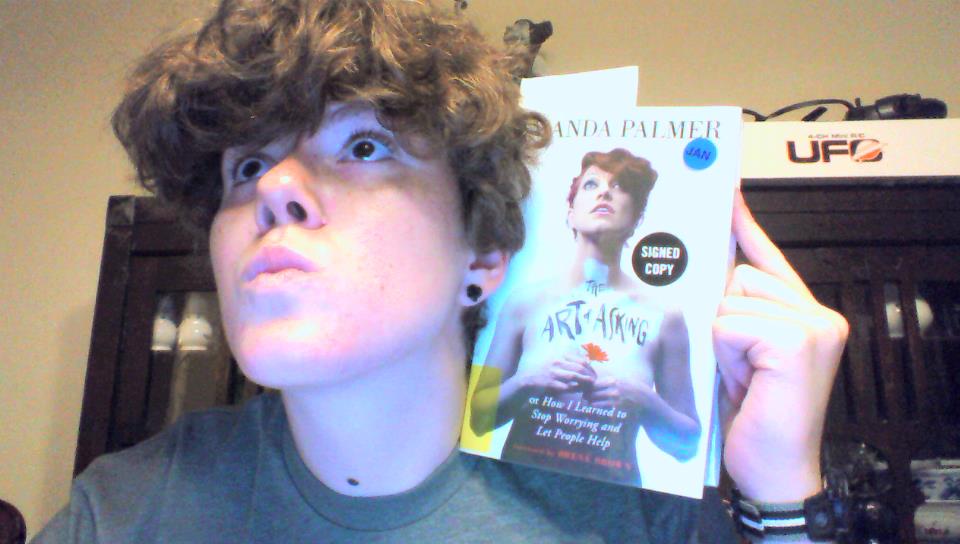 Book review time!
On Wednesday, I finished The Art of Asking by Amanda Palmer. I was going to post a review that day, but as is obvious, I got a bit distracted by Ashley Mardell's video. Hence, why I didn't review the book then. Yesterday was just unproductive as a whole. It happens. Anyways, let's talk about the book.
I thoroughly loved it. It was amazing. Amanda taught me so much just by sharing her life experiences and thoughts and I am eternally grateful to her for that. Thank you, Amanda. The book is a memoir type thing about how Amanda has achieved success through asking and crowdfunding. She was the first musician to raise a million dollars through Kickstarter and she regularly crashes on the couches of fans when she is touring. She relies very heavily on her community to help support her. She creates music and cultivates a good relationship with her fans and then they respond by helping when she asks for it.
The book is obviously more detailed, but that is the general gist-ish of the story she tells. But that isn't the entirety of the moral of the story. Amanda isn't sharing her life story just to make money. She is sharing her story because it teaches a very valuable lesson. It teaches you how to ask for help.
Often throughout the book, Amanda mentioned seeing other people and really connecting with them. It was a concept I had never really thought about before, but now I see the craving to be seen in myself and those around me. I recognize people seeing in me in my memories and interactions, but it doesn't happen nearly as often as I would like. I feel like the best way to describe it without making you read her book is the feeling you get when you are hanging out with your very best friend. The feeling of someone seeing you and accepting you and loving you for just existing. It doesn't have to happen around your best friend though. Amanda talks about the hundreds of people she connected with when she busked as the Eight Foot Bride. She was completely silent, but she connected with people over and over again as she handed them flowers.
This new concept of being seen is a key part of the book, but not all of it. I don't want to ruin the story for you. Although, even if I did a full synopsis, I wouldn't be able to compare to the raw energy, emotion, and connection that Amanda's book provides. Reading Amanda's book has created a strange half relationship between us, where I know all of these intimate things about her and her life and she knows literally nothing about me. Amanda, if you want to remedy this situation just let me know and I can share my story with you in the same way that you have so graciously and beautifully shared your story with me. Thank you Amanda, for writing this.
I completely recommend this book to anyone over the age of 15. I guess. It is a very heavy and thought provoking book. I'm not entirely sure anyone under the age of 15 would be able to entirely grasp the concepts, but I wouldn't stop them from trying. I really loved it and now all my friends are going to harass me because I always say that I love everything, but, in that case, I need a stronger word. Because this book changed my life and the way that I look at the people around me. It was an eye-opening read. It was a book that opened me up to the people and the world around me and I would most definitely say this book has changed my life for the better.
Please, go check this book out. I checked mine out from the library. You can do that too and support your local library, or you can buy it at a local bookstore. Just go and read it. You will not regret it.
Have a wonderful night everyone and I look forward to hearing your responses to this amazing book.
-Alora