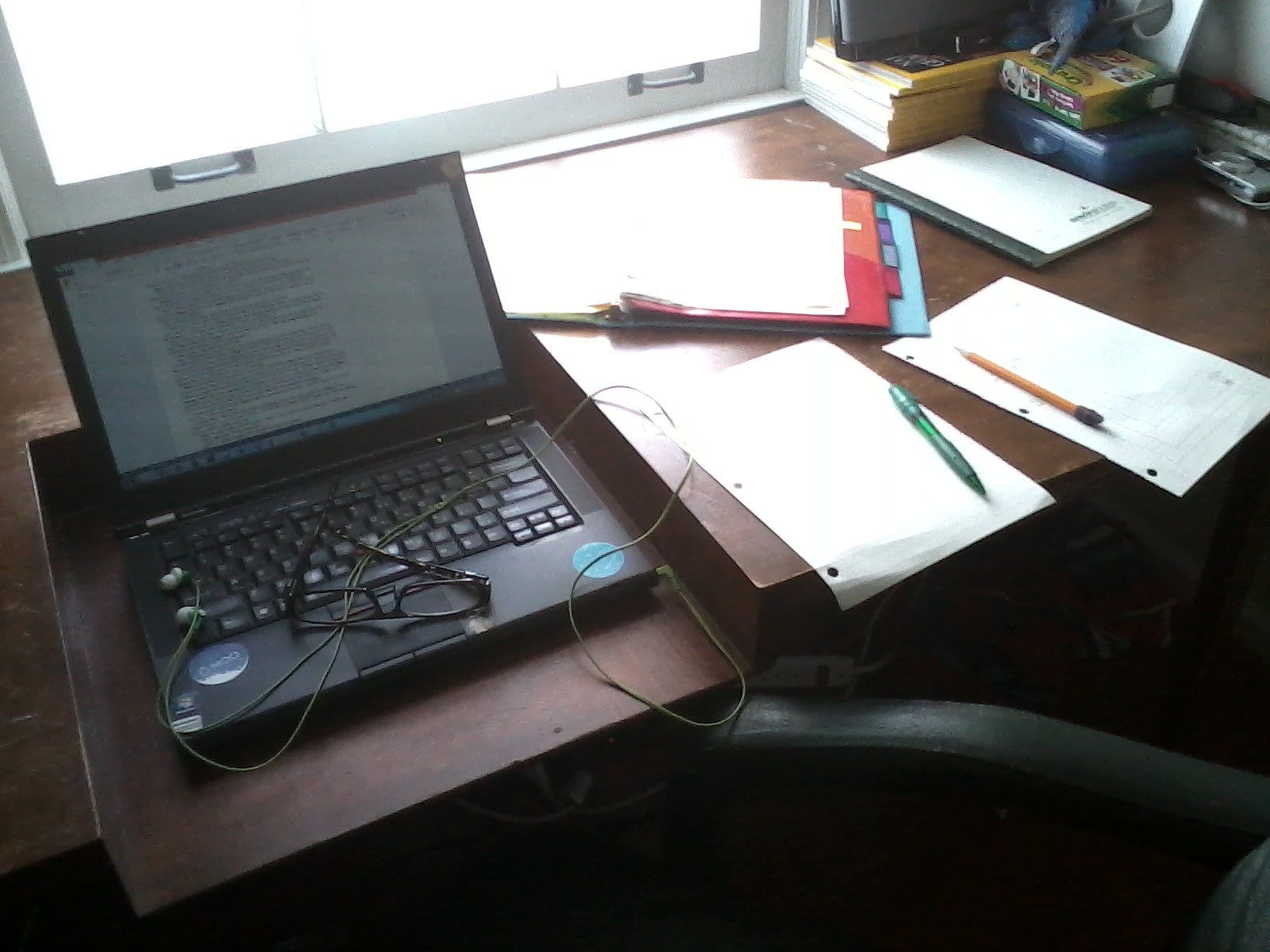 Hello friends.
Writing a novel is difficult, but I think the far more difficult task is revising the first draft into something readable. Just revising it, so that someone who hasn't had three different versions of the plot explained to them will know what is going on. That is what I spent two hours working on today.
For those of you that do not know, in July of 2013, I participated in Camp NaNoWriMo. I wrote 50 thousand words of a novel in a month. It was amazing. Since then I have been on and off revising that novel. I have often gone months between revisions which makes the act of revision very difficult. As of right now, I am on the fourth draft, but the book is nowhere near done. I've entitled it Complete Immersion and there is a counter in my "Currently" widget on the right that I am using to keep track of the number of words it has. You can use it to check up on how my novel's going.
Today was the first time I've worked on Complete Immersion since I've been home for the summer, and it was extremely difficult to get anything done. Getting a good momentum was almost impossible and it only lasted a few minutes. My desk is in Maxwell's room right now, and he is using it, but last night I asked him if I could borrow it for a few hours to get some writing done. He agreed and cleared me a space. After I got home from work, I proceeded to lock myself in there for two hours. It was rough. I only revised two pages. I have seen writing compared to pulling teeth and that analogy would definitely apply to today's revisions. It was hell.
But. I am going to get back in the habit of revising a little bit everyday and it should get easier. Tomorrow I will revise for another two hours, maybe more. I will get this novel into a good shape this summer.
Now that I have complained about my revisions, I want to talk about how I revise. When I first started to revise Complete Immersion, I didn't really know what I was doing. I've kinda figured it out, maybe. Idk, but I am going to talk about it. Please discuss how you revise/edit in the comments and we can have a good old fashioned discussion.
When I revise, I read through the story from start to finish and change whatever pieces I don't like. Then, when I get to the end, I start over from the beginning. I make sure everything sounds good. I fix dialogue. I check facts. I reconcile character actions with their backstories. I usually end up completely rewriting half of what I already had, because the idea was good but the execution was poor. I wrote Complete Immersion without much planning, so a bunch of my revising time is spent "planning." I map out locations and write down new character details. I have a binder that I keep beside my computer while I write that has maps, basic character info, character notes, plot notes and just a bunch of thoughts on the story. I reference it and some documents on my computer often. They help keep me on track. That way, I won't end up with too many plot holes and character inconsistencies when I reach the end of the story.
With each revision, the story gets better and better. In between revisions, I learn so much more about writing and writing well. Also, like everything, writing gets better with practice. Revision gets easier with practice too. (Well, so far it has.) Oh, and here is a biggie. Show don't tell. Everybody and their mom throws this phrase around, but I don't think I truly understood it before I wrote Complete Immersion and then began revising it. Now however, I definitely understand and I like to think I am better at it. In my mind, showing gives the reader a stronger sense of being in the story, almost like they were watching a movie. Whereas telling almost feels like a dream. You know stuff is happening, but you can't quite make it all out. I think it is harder to feel fully involved and invested in the story.
Other than that, revision is mostly grunt work, which is why I am still revising two years after I wrote first wrote the story. Actually, it's been almost two years to the day since I started Complete Immersion. This July is Camp NaNoWriMo 2015!!!! (I wrote Complete Immersion in July 2013.) I am super excited. I think I'm going to set up a word count per revised page system and use Camp NaNoWriMo to inspire myself to revise, revise, revise.
Now, I must go. Good luck on any revisions that you may be working on. Please share your difficulties in the comments and we can commiserate. Also, check out Camp NaNoWriMo. It is a month of writing where you can pick any word count and work together with other campers to hit your goal. Your words could be working towards a novel, a play, a revision of a novel, a dissertation, anything. It is super fun and I have made a lot of friends through participating. I am definitely planning on participating this year.
I hope to see you all at camp! 😀
-Alora