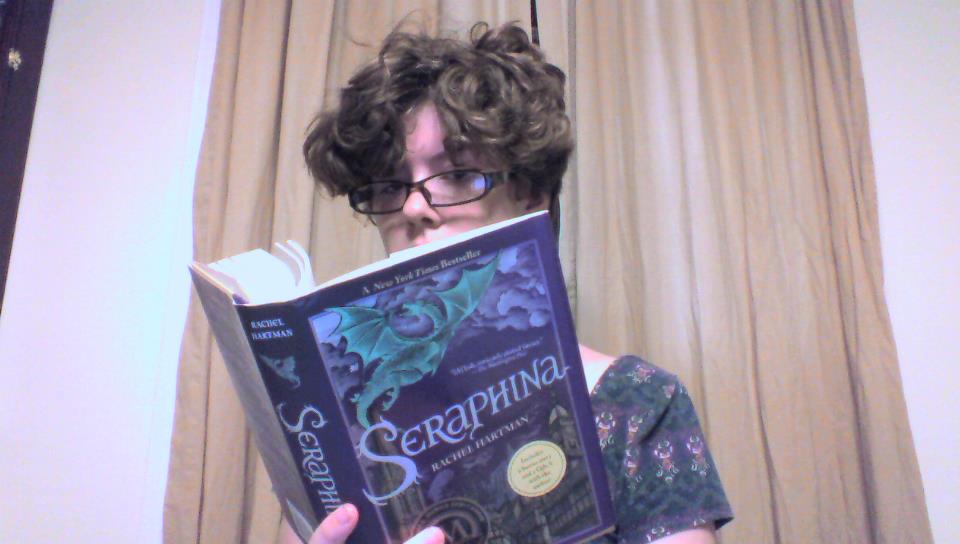 It's book review time again! As I mentioned in my summer goals post, I want to read 2.5 books a week. That means a lot more book reviews. This morning I finished Seraphina by Rachel Hartman and then promptly went out to Barnes and Noble to get the sequel. That leaves out the fact that I stayed up until 2AM reading last night. The book was absolutely wonderful. Going in all I knew was that it was set in a kingdom where dragons could take on human form and there was a tentative peace between the two of them. Also, I knew that the main character, Seraphina, had a huge secret. I'm not going to tell you what the secret is, just that it's a biggie.
Seraphina is an absolutely wonderful character. She has the wonderful depth and development I expect from great authors and Rachel Hartman is definitely one of them. Seraphina won the William C. Morris Debut Award and for a good freaking reason. This book was gold. Before I read this book, I had two favorite book series that majorly featured dragons: The Inheritance Cycle and The Last Dragon Chronicles. I grew up on those two series, and now I get to add another to my list. Our main character, Seraphina Dombegh, exists in a wonderfully rich world. Not every detail was explained, but they were still there. The book was one of those books that need to be read like four times to understand everything. I am positive that I missed foreshadowing and important details. There was just so much to take in. Reading the book was like entering Seraphina's world.
Also, the writing was amazing and Rachel Hartman created a hugely rich world. I am just repeating myself at this point because I cannot figure out a better way to explain how amazing this book is. Let me think for a moment…
.
.
.
Okay. Let me try again. In Seraphina, Rachel Hartman constructed a detailed world, with interesting, realistic, and lovable characters who drove a fresh, engaging plot forward every step of the way. Seraphina is a confident young woman who, despite her huge, life-endangering secret, manages to help others and try to make her world a better place. She doesn't just sit by and let the plot pass around her. She takes action and tries to help others. Seraphina is a good role model for young girls and at the same time she is a flawed and well rounded character and person.
The book does not fall into typical fantasy tropes for plot, characters or even setting. Obviously there are dragons and a kingdom, but the world is so much more detailed and rich than that. The book is amazing and awe-inspiring. Rachel Hartman has captured my heart and head with Seraphina and it's amazing prose, character, plot, setting, everything. The book was more than wonderful and I cannot wait to read the sequel and see what else Rachel Hartman has to offer. I look forward to more books from her.
If you've read Seraphina, let me know what you think down below. If not, go get a copy. You won't regret it.
-Alora